Report by: Dr Philip Rajan Deveshayam, FRCS, Hospital Raja Permaisuri Bainun, Ipoh, Malaysia.
The 11th Malaysian International ORL-HNS Congress in conjunction with the 39th AGM of the Malaysian Society of ORL-HNS (MSO-HNS) was held 20-22 June 2019 in Kuala Lumpur, Malaysia. The event saw experts in the field of otorhinolaryngology, both from Malaysia and abroad, presenting latest and current management strategies for ENT conditions. The international faculty came from the all over the world, including Professor Thomas L Caroll from the United States and Dr Glenis Scadding from the United Kingdom. A special guest was Professor Nirmal Kumar, President of ENT UK, who also delivered a lecture on 'Smell, What is New'. The talk provided some new insights into the management of qualitative disorders of smell and was co-authored by Professor Carl Philpott, Professor of Olfactology.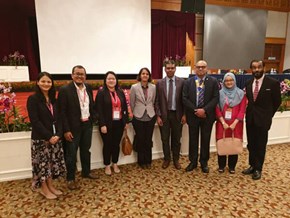 Professor Nirmal Kumar, President of ENTUK, with members of the organising committee.
The opening of the congress was done by the President of MSO-HNS, Dr Kong Min Han. The plenary was on the future of ORL training in Malaysia and it was delivered by Professor Din Suhaimi Sidek. In addition to the comprehensive scientific programme, it was also a time for fun and fellowship among the ENT fraternity.
Prof Nirmal Kumar and Professor Raj Murali stayed back to support a national ORL curriculum writing workshop, which was held immediately following the congress. The workshop consisted of senior representatives from the Ministry of Health, Malaysia, and from the local universities which offer a Masters in ORL. Present at the workshop was Dato Dr Siti Sabzah, Head of ORL services to the Malaysian Ministry of Health and Professor Dato Adeeba Kamarulzaman, Dean of the Medical Faculty at the University of Malaya.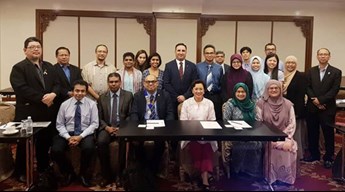 Professor Nirmal Kumar with senior members from academic institutions and the Ministry of Health Malaysia.
The workshop looked into ways of tweaking the local ORL curriculum to meet the current needs of the nation and to create a single 'National ORL Curriculum'. Prof Raj Murali's simple but profound explanation and analogy of what a curriculum was, gave participants a fresh perspective on the subject. Prof Nirmal Kumar subsequently elaborated on the structure and components of the UK curriculum. It was a hugely successful workshop with participants enthusiastically contributing towards a common goal.