Event Details
Date:
27 May 2021
- 29 May 2020
---
Location name: Reykjavik, Iceland
---
Location address: Harpa Concert Hall and Conference Centre, Austurbakki 2, 101 Reykjavík, Iceland
---
---
---
Click to view dynamic map

 Einar Hjaltested MD, Chair of Organising Committee
The Icelandic ORL-HNS Society warmly welcomes you to the 34th Congress of the Nordic Association of Otolaryngology, which will be held on June 10 - 13 2020 in Reykjavik, Iceland. The triennial congress has more than a century long history and rotates between the five Nordic countries, Denmark, Finland, Iceland, Norway and Sweden. The last congress in Gothenburg, Sweden in 2017 was a great success and attracted more than 600 delegates. This time it is Iceland's turn to be the host.
We are preparing a scientific programme of up-to-date lectures covering most ENT subspecialties as well as keynote and instructional presentations. The programme will run in three parallel session tracks. Four pre-congress workshops will be offered. We have aimed for faculty of high standard and have invited speakers from all the Nordic countries, USA, South Africa, UK, Canada and Belgium. The official language of the congress is English, and we are hoping the event will attract delegates not only from the Nordic countries but also from other parts of the world.
The congress venue will be Harpa Concert Hall and Conference Centre. It is located in the heart of the city at the harbour and features stunning views of the surrounding mountains and the North Atlantic Ocean.
If you attend, don't miss the chance to spend some time experiencing Iceland's unique nature. We will offer excursion tours where you can see geysers and waterfalls, explore a lava cave, visit a geothermal bath or go whale watching. Alternatively, you can just rent a car and plan your own tour. There are many recreational opportunities around Reykjavik such as horse-back riding, playing golf in the midnight sun, hiking or just relaxing while enjoying the vibrant cultural life of Reykjavik. Save the dates and come to meet your friends and colleagues in Iceland next summer.
See you in Reykjavik in June 2020!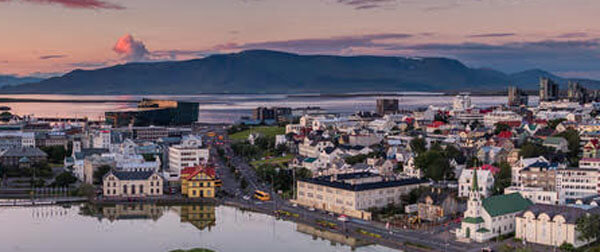 Reykjavik at midnight in June.