Event Details
Date: 29 November 2018
---
Location name: Leeds, UK
---
Location address: Royal Armouries Museum, Armouries Drive, Leeds, LS10 1LT, UK
---
Contact: Christy Hillman
---
Tel: +44 (0)20 7404 8373
---
---
---
Click to view dynamic map
Report by Shane Lester, Consultant ENT Head and Neck Surgeon, James Cook University Hospital, Middlesbrough, UK.
This was the second time that the annual evidence based meeting was held at The Royal Armouries in Leeds which was, again, an excellent venue. This well attended meeting was organised by Mr Sanjai Sood and the Head and Neck Society of ENT UK. With faculty and delegates from the UK and Europe in ENT, maxillofacial surgery, pathology, oncology, plastic surgery and radiology, it was truly multidisciplinary.
Mr's Sanjai Sood, Shane Lester, Jemy Jose
The morning session began with an excellent overview of the challenging pathology of these lesions by Dr Preetha Chengot with reference to the updated WHO 2017 guide. Dr Miranda Pring provided an overview of the Head and Neck 5000 trial and how the data was available to all via the website.
The guest speaker, Dr Davide Lombardi from Brescia then provided an impressive overview linking pathology with clinical outcomes, an area with immense potential for personalised therapy in the future. Dr Rob Metcalf, Consultant Oncologist from Manchester, updated us on targeted therapy for malignant salivary tumours, encouraging centralised referral for these difficult, rare cases. A thorough review of the evidence for radiotherapy and chemotherapy was provided by Dr Karen Dyker from Leeds. Professor McCaul from Glasgow ended the morning session with an excellent evidence based lecture on the role of neck dissection. Pointing out the gaps in evidence, Professor McCaul encouraged us to build multicentre studies to address these issues.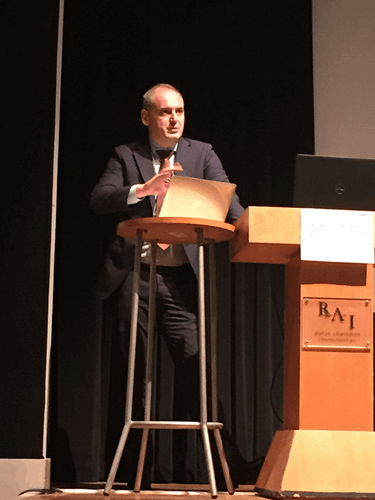 Dr Davide Lombardi
The afternoon session provided several sessions on specific challenging issues regarding the management of these complex tumours. The chosen topics had been picked by the Head and Neck Society Council and each lecture led to many questions being raised by a very actively participating audience. The session ended with the usual panel discussion led by Professor Homer from Manchester and illustrated very well many of the challenges that MDTs face when managing malignant salivary tumours.
I personally enjoyed the walk through the evidence for managing these challenging cases in order to aide my real world practice.
I hope to see you at next year's meeting in November 2019, in Birmingham.