Event Details
Date: 6 May 2019
---
Location name: Dublin, Ireland
---
Location address: RCSI 26 York Street, 26 York St, Dublin, Ireland
---
---
Click to view dynamic map
 Report by: Richard Ben Speaker, SpR
The Royal College of Surgeons in Ireland (RCSI) opened its doors on a warm bank holiday Monday evening for this event, which was hosted by the Irish Institute of Otolaryngology, and took place in RCSI's newest building, 26 York Street. It was part of the Journal of Laryngology and Otology (JLO) visiting professors and Royal Society of Medicine Presidents tour. The promise of talks from world-famous otolaryngologists drew colleagues from across the Ireland. Professor Dr Oliver Kaschke of Sankt Gertrauden Krankenhaus, Berlin, delivered a treatise on 'Management of Low Risk Thyroid Cancer'. The talk highlighted the global trends in recent years towards limiting aggressive intervention in thyroid carcinoma, as well as discussing new directions in risk stratification research. This was followed by an enlightening presentation by Dr Robert Jackler, Professor of Otology and Neurotology at Stanford University, on 'Challenges in the Management of Cholesteatoma'. Dr Jackler's talk was a practical session on pitfalls and clinical pearls in the operative management of cholesteatoma, which featured illustrations from his long-term collaborating medical illustrator, Chris Grallup.
In attendance were Mr Richard Irving, Birmingham, and Professor Shahed Quraishi OBE, Doncaster; presidents of their respective Royal Society of Medicine chapters.
The audience was delighted be the sterling quality of the talks, and afterwards, a reception was held at the nearby Fitzwilliam hotel where the delegates were able to converse with the professors and visiting dignitaries over dinner.
Thanks to Prof Nash Patil, President of the IIOHNS (Irish Institute of Otorhinolaryngology/Head and Neck Surgery) for his hard work in organising this edifying evening. We hope to see you all at events like this one in the near future.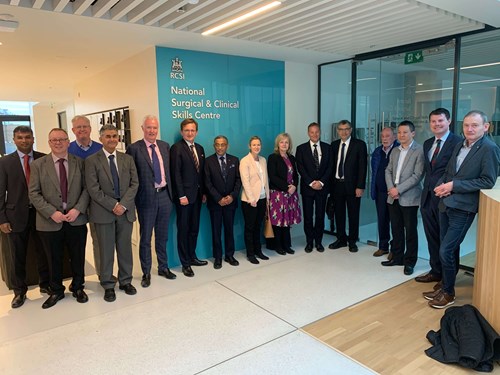 Organising committee and some of the delegates at the RCSI National Surgical and Clinical Skills Centre.