Event Details
Date:
9 June 2019
- 13 June 2019
---
Location name: Los Angeles, USA
---
Location address: Loews Hollywood Hotel, 1755 N Highland Ave, Los Angeles, CA 90028, USA
---
---
---
Click to view dynamic map
 Report by: Harvey Coates, Paediatric Otolaryngologist and Clinical Professor; Consultant ENT Surgeon.         
The 20th biennial meeting of the International Society for Otitis Media (ISOM) on Recent Advances in Otitis Media was held from 9-13 June, at Loew's Hotel in Hollywood, California and followed the very successful ISOM meeting on the Gold Coast, Australia In 2017.
This meeting, sponsored in part by the National Institutes of Health (NIH), was very focused on prevention of otitis media (OM) and, in particular, the outcomes of vaccine trials to prevent OM. Professor Lauren Bakaletz from Ohio was the co-organiser and had negotiated the support from NIH for this meeting and the next in Tel Aviv, Israel in June 2021.
The first keynote address was given by Dr Shelly Chadha who leads the section on ear and hearing at WHO in Geneva. Shelly gave an inspirational address on the scope of ear disease globally, and the preventative programmes for especially middle ear disease and noise induced hearing loss. Her enthusiasm has led to many innovative programmes as well as the forthcoming Hearing Forum in December. Major presentations on overview of OM and vaccination were given by Dr Steve Pelton, Professor Peter Richmond and Dr Ron Dagan. Professor Lauren Bakaletz gave an excellent talk on developing a vaccine against nontypeable haemophilus influenzae (NTHi), which is now the most common middle ear pathogen following the successful pneumococcal conjugate vaccine (PCV) campaign globally. 
In the clinical sessions, two presentations were fascinating for different reasons. Professor Richard Rosenfeld from New York presented his results on insertion of grommets in 300 infants without any anaesthesia. The popularity of his practice relates to parental concern regarding the safety of general anaesthesia in infants and the possible effects on the developing brain. Prof Rosenfeld has the infants placed in a papoose and their heads gently restrained by a nurse while he inserts the ventilation tubes in as little as two minutes. Then the children are fed and sent straight home with their parents. A somewhat controversial talk!
Dr David Andrews from the Alaskan Inuit outreach service gave a fascinating talk on their telemedicine programme with costs of each consultation about one third of the cost of flying the patients in for face to face visit. The ethics, safety and efficacy of the programme was discussed.
Audiologist, Dr Chris Brennan-Jones, gave an interesting discussion on outcomes of his Cochrane Collaboration review of CSOM while Professor Amanda Leach from Darwin presented on the Australian Centre for Research Excellence in OM and the new OMapp now available online.
The conference dinner at a local Hollywood restaurant gave delegates the chance to relax, network, dine on Italian food and Californian wines. At the closing, Prof Tal Marom, from Tel Aviv showed a very inviting clip of Israel's tourist attractions which will encourage a great attendance at the 2021 meeting.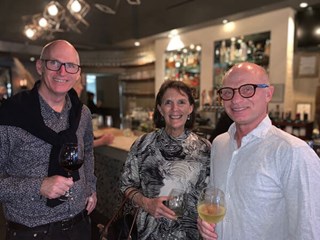 Australian presenters at the meeting: (L-R) Professors Peter Morris, Amanda Leach and Anders Cervin.