Report by: Brianna Kuzbyt, AuD, FAAA; University of Miami Ear Institute, Miami, FL USA
The University of Miami welcomed over 600 clinicians, scientists, and researchers from 35 different countries to OSSEO 2019: 7th Annual International Congress on Bone Conduction Hearing and Related Technologies in Miami Beach, Florida USA. During Osseo 2019, the largest meeting in the conference's history, researchers from around the world presented new and ongoing research in the field of bone conduction hearing devices and acoustic implants, discussed new surgical techniques, and highlighted leading-edge technologies. Over the course of the four-day conference, attendees also had the opportunity to browse varied research posters, attend any of the four sponsored workshops, make new connections at the two networking events, and of course enjoy December on Miami Beach.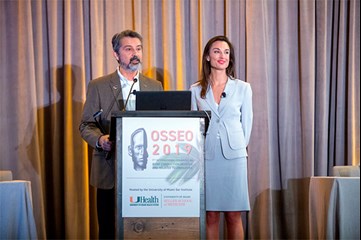 Dr Fred Telischi and Dr Hillary Snapp, co-chairs of Osseo 2019, address the audience at the Osseo 2019 opening ceremony.
Over 100 presentations covered varied topics in the area of bone conduction hearing, including emerging technologies, expanding indications, binaural hearing, topics in paediatrics, evaluation/fitting/verification, hearing science, surgical considerations, middle ear implants, measuring outcomes, and future directions of bone conduction technologies. Round table and panel discussions sparked interactive and dynamic conversations between panel members and attendees.
New to the Osseo conference this year was the implementation of meritorious awards for young investigators and students with promising and innovative research. Also, the conference recognised Julia Portales, a 13-year old bone conduction hearing device user with the Super HEARo award which is given to a patient who demonstrates extraordinary courage and strength, inspiring and supporting others with hearing loss.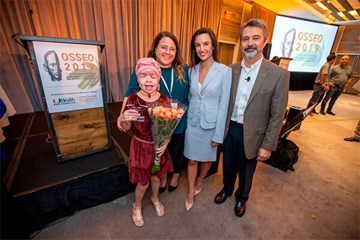 Julia Portales accepts the SuperHEARo award for demonstrating extraordinary courage and strength and inspiring and supporting others with hearing loss. She is pictured with Dr Chrisanda Sanchez, Dr Fred Telischi, and Dr Hillary Snapp.
This year's Osseo meeting highlighted advances in augmented reality technologies and their application in medicine. Two keynote speakers gave fascinating presentations on technology that expands our capability to experience the world around us, and presented applications for bone conduction technology in ways that many attendees had not seen before. Keynote speaker Dr Michael Ivan from the University of Miami presented advances in augmented reality and its application in the operating room and in clinical teaching. He showed how a rendered image can be overlaid on a patient to guide surgeons and teach students. Keynote speaker Dr Gershon Dublon from the MIT Media Lab explored the relationship between computer sensors and human perception after posing the question, 'How can technology bring us closer to the natural world?'. Cochlear announced their new bone anchored hearing implant, the Osia 2, which was discussed in many different research studies presented throughout the conference. Participants and presenters discussed bone conduction technology for all the different types of hearing losses and focused on what these advances in tech can do for these patients who rely on this for everyday functioning and for improving their quality of life in a way that is more seamless, less cumbersome, and less noticeable.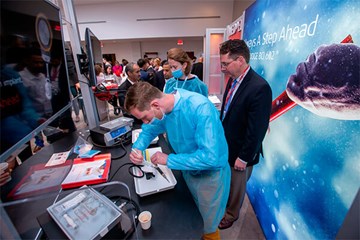 Attendees got to take advantage of hands-on learning opportunities and workshops, like this demonstration of surgical technique.
Many participants shared their appreciation for the varied scientific content, rigorous research, engagement of discussion groups, and diverse cohort of attendees. We all look forward to see what Osseo 2021 has to offer us in Switzerland!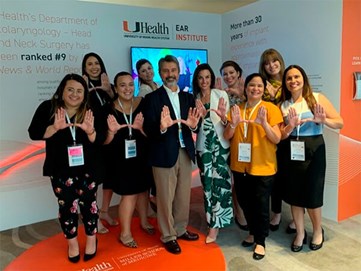 The University of Miami Ear Institute team welcoming "U" to Miami Beach for Osseo 2019 at the Miami Ear Institute booth in the exhibition hall.