Event Details
Date: 11 November 2019
---
Location name: London, UK
---
Location address: Gordon Museum of Pathology, King's College London - Guy's Campus
---
---
Click to view dynamic map
Report by: Jessica Lunn, ST3 Otolaryngology, Severn deanery
The Gordon museum, the largest medical museum in the UK, provided a fascinating venue for the 155th Semon Club Meeting. Run by Ms Irume Pai, the meeting provided junior doctors the opportunity to present and discuss interesting ENT cases from hospitals around the country.
The day was split into four sessions; rhinology and anterior skull base, otology and lateral skull base, head and neck, and paediatrics with a total of twenty three presentations. It was great to see a range of presenters from GP trainees to post-CCT fellows. Each session was chaired by a consultant with a sub specialty interest in that area directing relevant discussion and questions. For each case, following presentation of the history and examination, the imaging and histology slides were reviewed by the meeting's specialist radiologists and pathologist highlighting key features. With the diagnosis only revealed after this discussion and towards the end of the presentation, the audience found themselves continually engaged and trying to work out every case.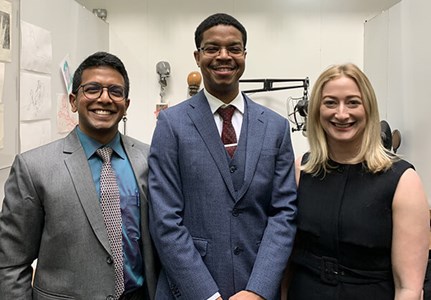 Akshay Vinoo, Stefan Linton and Kate Hamlett representing Manchester at the Semon Club Meeting.
A wide range of thought provoking pathology was discussed, with particularly memorable cases including; laryngeal aspergillosis caught from a sick pet parrot, levamisole induced vasculitis (a veterinary antihelminthic drug now widely found as a contaminant in cocaine) and an Ex Utero Intrapartum Treatment (EXIT) procedure performed for a large oropharyngeal mass.
The importance of a good working relationship between multidisciplinary team members including radiologists, pathologists, microbiologists and ENT surgeons was a recurrent theme throughout the meeting. The meeting was closed with announcement of the Professor Leslie Michaels prize for the best presentation and the abstracts will be accessible online in the The Journal of Laryngology & Otology.