Here, we continue exploring audiology training routes across the world with a focus on bridging the Hearing Health Access Gap in Sub-Saharan Africa. This article is provided by Alfred Mwamba, AuD, who is the Executive Director for the Starkey Hearing Institute in Zambia.
The Starkey Hearing Institute (SHI) in Zambia, was built in 2015 by the Starkey Hearing Foundation (SHF). SHF uses the WFA® Community-Based model which was developed by the founder, William F Austin. The model, which stands for the founder's name, as well as 'wide frequency audibility' uses simple, sustainable and scalable methods to provide meaningful benefits for people with hearing loss across the globe [1].
According to the World Health Organization (WHO), human resource ranks amongst the greatest barriers to healthcare delivery in low to middle income countries (LMICs). In Sub-Saharan Africa, it has been reported that there is a shortage of more than 25,000 hearing healthcare professionals and, as the population continues to grow, this shortage will increase [2]. To avert the ongoing human resource crisis, innovative approaches to training hearing care professionals have been adopted by the SHI in Zambia.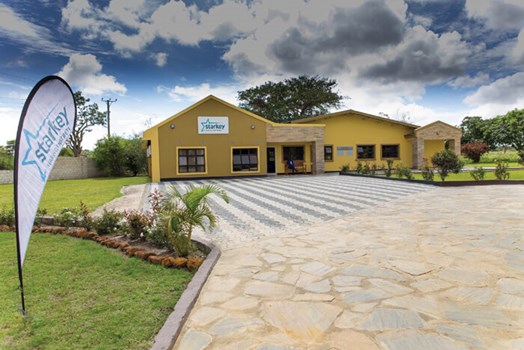 Starkey Hearing Institute, Zambia.
With over 45 million people in Sub-Saharan Africa with disabling hearing loss, the demand for hearing healthcare continues to rise as life expectancy continues to increase [3]. In response to this need, SHI has implemented a tiered training model, which is designed to provide a clear professional advancement pathway to the graduates. This will ensure that both the needs of the hearing-impaired population and the professionals who provide the services are met. The SHI model ensures that a professional can continue to advance through their career whilst advancing their qualifications.
"To avert the ongoing human resource crisis, innovative approaches to training hearing care professionals have been adopted by the SHI in Zambia"
Levels of training
Since inception, SHI has provided a non-traditional, modified audiology proficiency training model. To date, SHI has graduated 41 professionals from 15 countries [see Figure 1].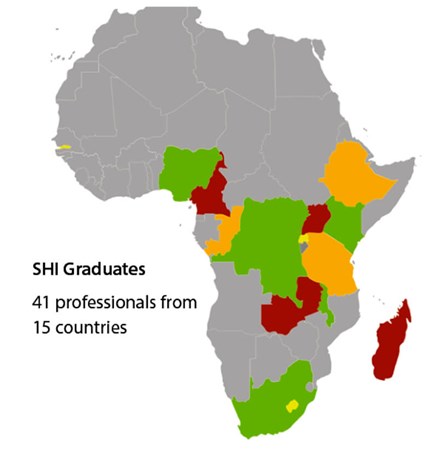 Figure 1.
Whilst some professional associations use terms such as 'audiology technicians' and 'audiology assistants' for individuals trained to perform a limited set of tasks in hearing care, these terms are best understood in contexts where audiologists are available [4]. In most parts of Sub-Saharan Africa, no audiologists are available, which necessitates the training of independent practitioners to provide hearing care services. The SHI has advocated for the use of professional titles such as 'hearing instrument specialists' and 'hearing health specialists' to give professional autonomy to graduates to provide service within their scope of practice. This idea has been adapted from other professions such as eye health, where there are several independent levels of service delivery e.g. optician, optometrist, etc.
With this model, trainees have an opportunity to advance through different levels within the profession and encourage professional retention. Furthermore, there are many developed countries which regard a hearing aid dispenser as an independent practitioner rather than as a technician to an audiologist and the SHI training model is based on providing professional independence and validation for the different levels of service delivery within the audiology profession.
Title
Community Health Worker
Competencies: WFA
®

Community-based Hearing Health Care Ear inspection Case History Ear mopping Hearing aid cleaning and maintenance
Qualification: Certificate of Attendance
Title
Hearing Instrument Specialist
Competencies: All the above plus: Cerumen management Primary ear care Hearing evaluation Hearing aid fitting and verification on adults Public Health Planning
Qualification: Professional Certificate
Title
Hearing Health Specialist
Competencies: All the above plus: Paediatric hearing screening Paediatric evaluations under supervision Tinnitus Aural re/habilitation Ototoxicity monitoring Understanding Deaf culture Advanced counselling skills
Qualification: Diploma in Hearing Health Sciences
Title
Audiologist
Competencies: All the above plus: Advanced Audiological Testing ABR APD Pediatric evaluation, amplification and verification Vestibular evaluations and management services
Qualification: Bachelor's Degree in Audiology
About our programme
The four-phase WFA® Community-based Hearing Healthcare model focuses on community-based interventions, and increasing access to hearing health services starting with patient identification in phase 1, hearing aid fitting in phase 2, follow-up and aftercare in phase 3, and culminating in an inclusive education and empowerment programme in phase 4. The model has been successful for patients to receive hearing healthcare services.
To aid in universal health coverage, SHI developed a curriculum that ensures appropriate competencies are provided to professionals at all levels within a health system. This starts from the community and progresses to tertiary-level audiology services.
"In most parts of Sub-Saharan Africa, no audiologists are available, which necessitates the training of independent practitioners to provide hearing care services"
The table above describes the various competencies as conceptualised for career advancement within the hearing healthcare profession.
Community health workers are the backbone of a health system. The training programme at this level takes one-to-two weeks and focuses primarily on identification of ear disease and hearing impairment with a strong emphasis on hearing loss prevention and hearing aid maintenance. Upon completion of the training, a certificate of attendance is provided to the trainees.

The next level of training is the Hearing Instrument Specialist programme which is a nine-month, full-time certificate programme. This certificate requires completion of the Professional Training in Hearing Health Sciences programme from the International Hearing Society (IHS), WHO primary ear and hearing care training, the London School of Hygiene and Tropical Medicine (LSHTM) public health planning for hearing health course, and the WFA® Community-based Hearing Healthcare programme, coupled with intensive practicum experience.
The Diploma in Higher Education in Hearing Health Sciences course, which is offered in partnership with Queen Margaret University from Scotland, allows SHI students to complete online modules from QMU's Hearing Aid Audiology programme, alongside credit obtained from the coursework of the Hearing Instrument Specialist programme, to earn a QMU diploma. This partnership also benefits QMU's home-based students as it allows them to interact and learn from the SHI students' experiences, especially about their work using WFA® Community-Based Hearing Healthcare model.
Moving forward
The work of SHI and SHF assists people with hearing loss to improve their quality of life through better hearing. To accomplish this work, the SHI and the SHF will continue to adapt and improve their ability to train individuals to provide people in the developing world help with their hearing needs. Additionally, through agreements with institutions like QMU, we hope to provide avenues for professional growth for our graduates now and in the future. Through all the changes, the SHI and the SHF remain committed to promoting community-based hearing health solutions in simple, sustainable, and scalable ways that move hearing healthcare to be available to all who need it.
Collaborations such as those between the Starkey Hearing Foundation, the Starkey Hearing Institute and Queen Margaret University are important to the future of hearing healthcare and allow for growth and opportunities that bridge the hearing health access gap in Sub-Saharan Africa.
References
1. Larsen JB, Lawal L, Kaitesi MB, Mulwafu W et al. A community-based hearing healthcare model and the WFA fitting method. Hearing Review 2016;23(8):36.
2. Mulwafu W, Ensink R, Kuper H, Fagan J. Survey of ENT services in Sub-Saharan Africa: little progress between 2009 and 2015. Global Health Action 2017;10(1):1289736.
3. World Health Organization. Deafness and hearing loss. WHO Press.
www.who.int/mediacentre/
factsheets/fs300/en/
Last accessed November 2019.
4. American Academy of Audiology. Position Statement on Audiologist's Assistants.
www.audiology.org/publications
-resources/document-library/
audiologists-assistant
Last accessed November 2019.
Further Reading
World Health Organization. Multi-Country Assessment of National Capacity to Provide Hearing Care. WHO Pres.
www.who.int/pbd/publications/
WHOReportHearingCare
_Englishweb.pdf
Last accessed November 2019.

Declaration of Competing Interests: None declared.