Event Details
Date:
8 March 2023
- 12 March 2023
---
Location name: Brisbane, Australia
---
Location address: Brisbane Convention & Exhibition Centre, Glenelg Street, South Brisbane QLD 4101, Australia
---
Contact: MCI Australia, ORL-HNS Congress Secretariat
---
Tel: +61 7 3858 5400
---
---
---
Report
Imtiaz Ather Siddiqui, Chiniot General Hospital, Karachi, Pakistan and Zahoor Ahmed, Auckland University Hospital, Auckland, New Zealand.
After acknowledging the traditional custodians of the Australian land, the opening ceremony of the congress began with a recital by an Aboriginal from the Turrbal tribe and a performance on the didgeridoo. These were followed by speeches from the incoming and outgoing presidents, Professor Bernard Lyons and Professor Sudhakar Vaidya, respectively.
Among the keynote speakers, who followed a busy two days of pre-congress events, Dr Seiji Kakehata spoke on 'Heads-up surgery with the endoscope'. 'The future of ear surgery is looking up," said this co-pioneer in otoscopic ear surgery, talking about another emerging technique, exoscopic ear surgery. The goals of transcanal endoscopic ear surgery (TEES), he said, should be to remove diseased tissue, make a dry 'safe' ear, preserve normal anatomy and improve hearing. TEES is heads-up surgery and, since 2018, 3D exoscopic ear surgery (ExoES) has almost replaced endoscopic ear surgery.
Elsewhere, Lisa Orloff delivered a special RP Morton Head and Neck Oncology Oration on 'The ultimate feedback loop: head and neck ultrasound and neck dissection'. Zahoor Ahmed delivered the Randall Morton Research Lecture in a concurrent talk entitled 'Managing plunging ranula – lessons learned'. Imtiaz A Siddiqui highlighted his experiences in 'Early diagnosis and risk factors in oral cancer'.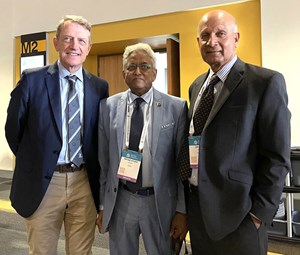 Breakfast meetings were well attended, as were social events, including a welcome reception and an early-morning parkrun. Old friends met and new friendships started. At the gala dinner on the top floor Plaza Ballroom, many members of Asia Oceania and ASOHNS were celebrated and presented with medals for their contribution to the societies and medical education.
The next Asia Oceania bid was won on majority votes by Japan and will be held in Kyoto Japan in 2027.
L to R: Collin Baber (New Zealand), Imtiaz Ather Siddiqui (Pakistan) and Zahoor Ahmed (New Zealand).