Event Details
Date:
29 June 2023
- 30 June 2023
---
Location name: ONLINE
---
Contact: Jan-Willem.Wasmann
---
---
---
Report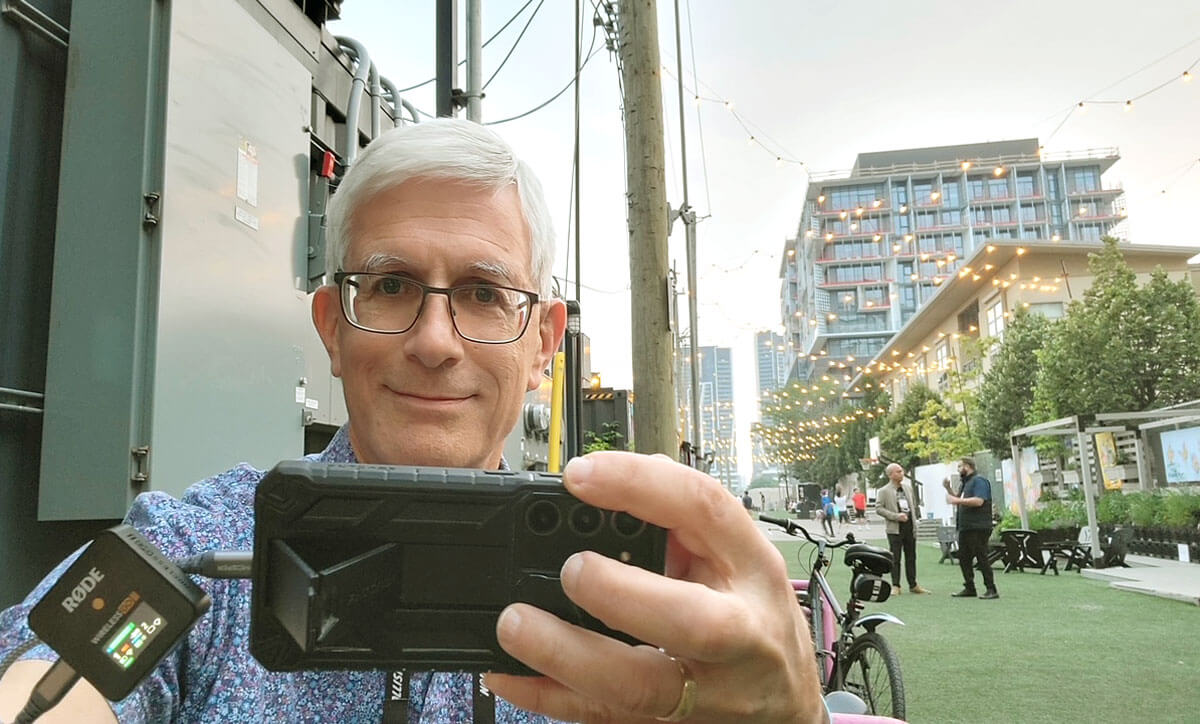 Andrew Bellavia taking a selfie during a VCCA2023 Q&A outdoors in Toronto, demonstrating one can participate in the VCCA without barriers, from any place and any time. 


Jermy Pang (left), National Acoustic Laboratories, Dharug Country, New South Wales, Australia, and Nikki Philpott (right), Department of Otorhinolaryngology, Donders Institute for Brain, Cognition and Behaviour, Radboud University Medical Center, Nijmegen, The Netherlands and Cochlear Ltd, Mechelen, Belgium.
The 2023 organising committee for the Virtual Conference on Computational Audiology (VCCA) aced the conference this year! It was action-packed, catering on three main sessions running on Sydney, Pretoria and California time. The topics were comprehensive and accommodated a broad selection of delegates. From improving music appreciation to paediatric considerations, applications of AI in hearing healthcare to enhancing client education about managing hearing loss – it led to a fantastic knowledge exchange across the three-day conference.
Managing the technical support and navigating a long list of presentations was no small task, and it was the result of many weeks of collaboration between teams of researchers traversing various continents. The VCCA organisers and events team ensured delegates were shepherded appropriately and the concurrent sessions ran like clockwork. The presenters and delegates were from diverse and multidisciplinary backgrounds spanning computer scientists, engineers, clinicians and early-career researchers, which generated engaging discussions at Q&A time and networking sessions via dedicated Slack channels.
It would not be a short report if it were to include all the amazing talks, however, two presentations and the special sessions certainly deserve a shout-out:
Greta Tuckute (MIT, USA), a Featured Speaker and winner of this year's Young Scientist Award, gave an inspiring presentation titled 'Driving and suppressing the human language network using large language models'. Using 'Transformer language models,' she showed that these accurate models of the brain's language processing can be used to control brain activity in certain language-related areas, without invasive methods.
Prof Sarah Verhulst (Ghent University, Belgium) gave an excellent Keynote Talk on 'Personalised and neural-network-based closed-loop systems for augmented hearing'. Her presentation took listeners on a journey from the foundations of auditory modelling and precision diagnostics to clinical implications of future hearing technologies.
As part of a Special Session, the Cadenza team provided an interactive presentation on personalising music to improve music listening experiences of people with hearing assistive technologies. The session led to a lively discussion, with participants providing input and feedback that will help the Cadenza team move the needle for improved music perception in individuals with hearing loss.
Special Session A was entirely dedicated to four talks on emerging trends in paediatric hearing loss diagnosis to management. The focus of the talks was centred on improving early detection and optimising intervention for young people, which is often challenging without objective means to accurately evaluate listening experiences of the paediatric population.
Special Session B was on inclusive design and assistive technology, and true to its title, the projects presented included other sensory disabilities. While the potential to collaborate and cross-pollinate learnings is exciting, the highlight of this session was certainly the call to action for more consumer and community involvement (or patient and public involvement as it is known in other parts of the world), and inclusion of lived experience in the design and implementation of emerging assistive technology is an invigorating proposition.
The salient benefit of a virtual conference is certainly one of the 'play-on-demand' privileges. While it was not possible to watch all the sessions from the various time zones, the ability to access them at a time of participants' choosing is one that we can all appreciate.
It has been a wonderfully inviting conference of intersecting disciplines that are committed and united to improving hearing loss detection, holistic management, and multi-stakeholder involvement throughout the hearing loss journey. And with that, the authors are already sold on VCCA2024!