Event Details
Date:
5 June 2023
- 6 June 2023
---
Location name: Birmingham, UK
---
Location address: Birmingham Conference & Events Centre (BCEC), Hill Street, Birmingham, B5 4EW, UK
---
Contact: Fitwise Management Ltd.
---
Tel: +44 (0)1506 292 039
---
---
---
---
Report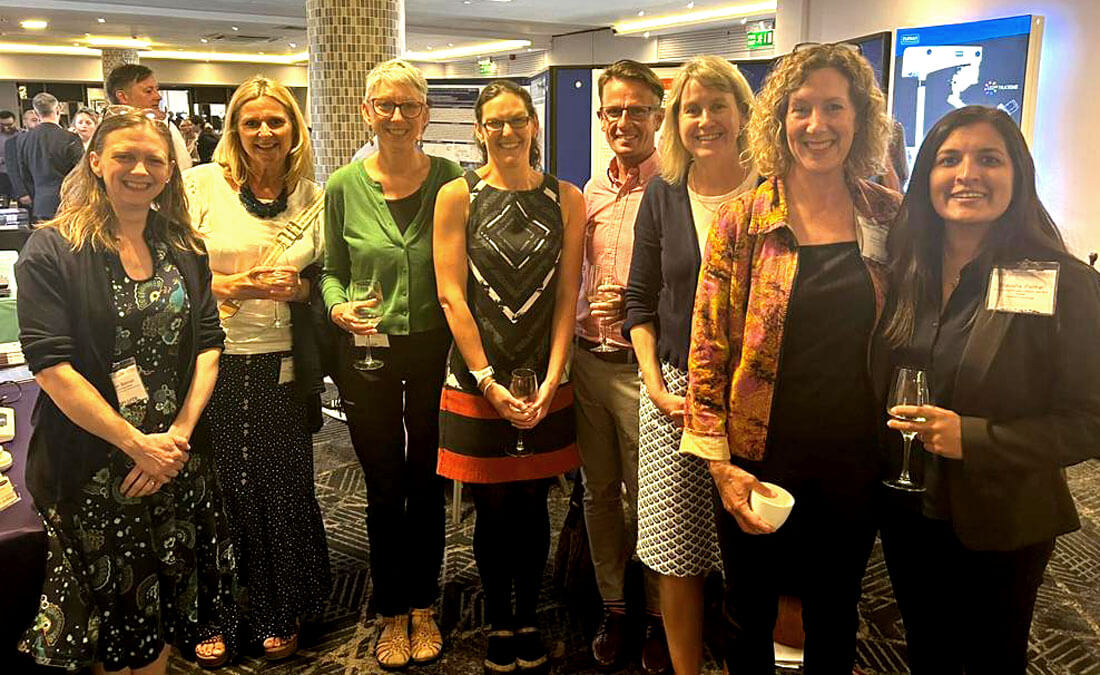 Fiona Kukiewicz, Clinical Scientist (Audiology), Head of Clinical Services MED-EL UK & Ireland.
The British Society of Audiology Scientific Meeting was a showcase for high quality research, development and service improvement. It was a chance for special interest groups (SIGs) to share their progress and, thanks to interactive sessions, for delegates to help plan the next steps.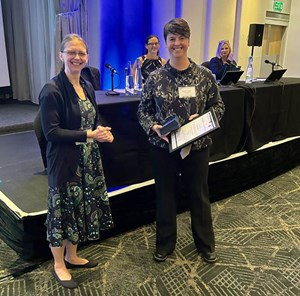 Claire Lingard and Dr Anisa Visram outlined the key changes to Recommended Procedure: Visual Reinforcement Audiometry (VRA) and discussed the importance and complexities of peer review of VRA testing. The newly formed Bone Conduction and Middle Ear Devices (BC-MED) SIG gave its inaugural presentation. Its commitment to consensus and education in the field can only be positive for this patient group.
Above: Laura Turton receiving the Denzil Brooks Award 2023.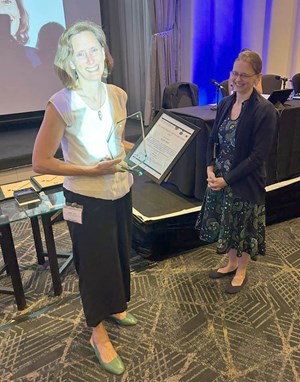 A discussion of mental health in relation to the Tinnitus Practice Guidance identified the need for support for those working with cognitive behavioural therapy (CBT) when assessing mental health in this patient group.
The always educational keynote speaker Professor Harvey Dillon spoke on the theme of auditory processing disorder (APD). He outlined the multifaceted nature of APD, explaining that the need to consider testing will involve, to a greater or lesser extent, the domains of memory, language processing and attention. Prof Dillon described the development of tests and training for APD, including the LiSN-U test which aims to be universal and to work in most languages, with spatially separated and co-located conditions. The APD patient group typically cannot use the available spatial cues.
Above: Judith Bird receiving the David Baguley Mentorship Award 2023.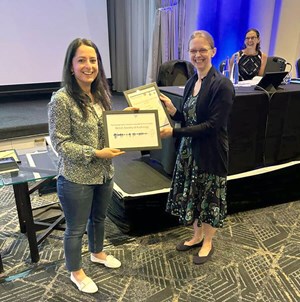 Rinri Therapeutics caused a buzz, outlining the first human trails of the auditory neuron progenitor Rincell-1 which seeks to regenerate auditory neurons. The trial group are those whose standard care will be a cochlear implant (CI). The control group receive a CI, the trial group a CI plus Rincell-1 treatment. Outcomes will include measures of auditory health using electrically evoked compound action potentials (eCAP). Exciting times ahead!
Above: Shahad Howe, on behalf of Simon Howe, receiving the People's Choice Award 2023.
A diverse and forward-thinking programme produced an informative and motivating conference. I'd encourage readers to get involved, check out the new BSA learning platform and join a SIG!