Event Details
Date:
17 January 2023
- 21 January 2023
---
Location name: Dubai, UAE
---
Location address: Dubai World Trade Centre, 2nd Zaabeel Road, Dubai D 73 Road, Dubai, UAE
---
Contact: MCI Middle East
---
Tel: +971 4 311 6300
---
---
---
CLICK THE IMAGE BELOW TO WATCH THE VIDEO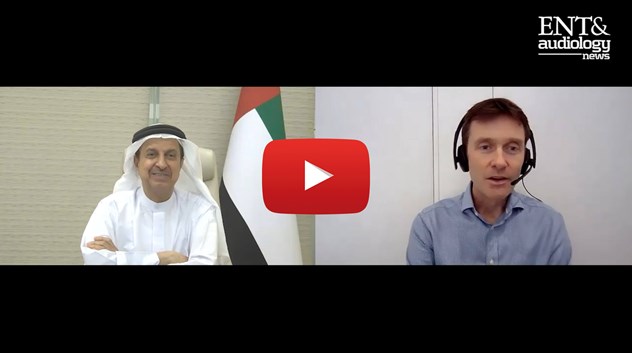 The last IFOS meeting was in 2017 in Paris… much has happened since then. To find out what's in store, Declan Costello caught up with Dr Hussain Abdulrahman Al Rand, President of the 2023 meeting in Dubai.
IFOS has had a few false starts in the last couple of years… tell us about Dubai in 2023.
Dr Hussain: When the IFOS Congress was held in Paris in 2017, a vote was held for where to hold the next meeting. Vancouver beat Dubai by a very narrow margin of two votes. But when Vancouver decided that they were unable to hold the meeting there in the summer of 2022, we were ready to step in. Dubai is a large centre for international meetings, so delegates can be assured of a fantastic conference. We are working hand in hand with the IFOS committees and local organising committees – all the areas of ENT and audiology as well as allied professionals will be covered, including audiology, hearing implements, speech therapy, phoniatrics, balance, and the ENT subspecialties of head & neck, rhinology, otology and paediatric ENT. The American Academy have also nominated members to be on the organising committee.
We are particularly pleased that to say that we are very focused on the younger generation of clinicians – hence, we are devoting 30% of the talks to young speakers.
Dubai is in the centre of the world – we connect east and west. All the major airlines come to Dubai, so travel here will be very easy. We also have a wide range of hotels to cater for all needs and budgets. We have a fantastic metro line which means that travel to the convention centre will be very easy. You could even book into the iconic Burgh Al Arab luxury hotel. We have museums including the "future" museum, a Louvre museum, horse and camel racing, falcon training, and many other activities (even skiing). The weather here in January will be 20°C, and we have a fabulous beach. We have 214 nationalities living in UAE living side by side, so we can cater for many cultures, tastes and food requirements. We look forward to welcoming colleagues from every corner of the world.