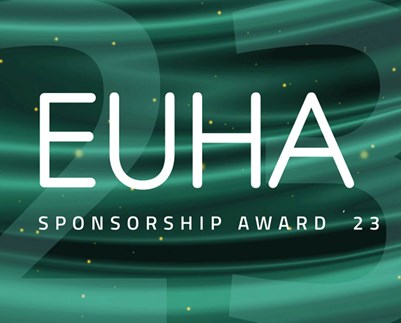 The European Union Hearing Aid Acousticians (EUHA) invites students to apply for the 2023 EUHA Sponsorship Award. Launched in 2010 to encourage young talent and help raise awareness of their work, the annual award will be presented at the 67th International Congress of Hearing Aid Acousticians in Nuremberg on 18 October 2023.  
The successful hearing aid acousticians can look forward to €3,000 for first prize, €2,000 for second prize and €1,000 for third prize.  
EUHA Vice President Eva Keil-Becker, who is the chairwoman of the sponsorship award jury, said: "The EUHA is an important platform for increasing knowledge and sharing current research. The EUHA Sponsorship Award gives young scientists the opportunity to present their findings to a broad audience."  
The competition is intended for current university students of applied sciences or those who have completed their studies within the past 24 months. They may submit a diploma, bachelor's or master's thesis which should deal with a topic concerning the rehabilitation of deficiencies affecting the auditory communication system and should exhibit potential for development. The subject matter should have practical applications for hearing aid acousticians. 
Theses must be received by no later than 15 August 2023. 
To view the 2023 award competition please visit: