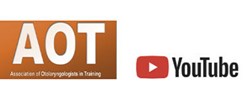 Given this crisis, traditional face to face regional and national training days have been severely disrupted. Despite this, an excellent opportunity to reach trainees on a national scale has developed. Virtual training sessions have been met with excellent reviews and have set the foundation for how the delivery of education in ENT will change.
Our ongoing aim at AOT is to curate a national and free resource of consultant delivered teaching. So far we have edited, time-stamped (to save scrolling) and mapped to curriculum over 50 videos from national ENT education schemes from around the country, totalling 10,000 views.
With individual lecturer permission these are being uploaded to our 'AOT ENT Education' YouTube Channel. Some of these educational videos will only be available via links on our website's new 'Education Page'  https://aotent.org/education/  i.e. 'unlisted' and not 'public', due to consultant request. To further facilitate updates and access we have set up an online education calendar. You will be able to view this on our Education Page and add it to your own personal calendar.
We hope doctors of different grades will benefit from this evolving resource in the months and years to come.