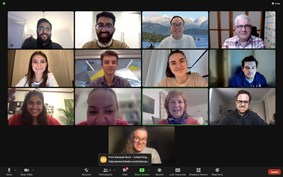 It was cause for a double celebration: not only was 25 February marked in the calendar as International Cochlear Implant Day, but it was the first anniversary of the CI International Community of Action (CIICA). In one year, CIICA's network has grown to 78 organisations and 360 individuals from 48 countries. They are united in the goal of increasing access to cochlear implantation and lifelong services for those with hearing loss.   
The World Health Organisation's 'World Report on Hearing' concluded that "Cochlear Implant is one of the most successful neural prostheses developed to date". It changes lives and opens up opportunities. Yet globally, only one in 20 children and adults who are deaf or have a hearing loss receive this life-changing technology. 
This gap in provision damages personal and public health and adds to the cost of dealing with unaddressed hearing loss. Following a global consultation, CIICA was established to tackle this. The activity in the last 12 months has been amazing. "The synergies of the network members have far exceeded our expectations in the first year," says Teresa Amat, President of the European Association of Cochlear Implant Users (EURO-CIU).  
CIICA's global community of Cochlear Implant (CI) advocacy groups shares resources, tools and activities to help strengthen the voice of users and their families. The popular CIICA LIVE events have dealt with funding challenges and adult rehabilitation, and inspired participants with news of innovations from around the world.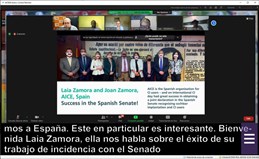 On a smaller scale, CIICA Conversations allow small groups to talk for an hour on topics such as tele-practice and the impact of the pandemic. Importantly, young people also have their voice heard. A group of 18-30 year olds with cochlear implants recently came together online from nine countries for a discussion under the banner of 'Shaping our Future Together'. As Bowen Tang, President of the International Federation of Hard of Hearing Young People said: "Our technology has to last a lifetime and we have to build a relationship with our CI." 
Accessibility is important: all CIICA events have live captioning, with translations into other languages on request. Our website has over 40 languages available and many of our resources are translated by members. 
Go to www.ciicanet.org/resources to find our summaries of 'The World Report on Hearing' and its implications for cochlear implant advocacy. You will also find a summary of the latest research on hearing and healthy ageing.  
The pandemic has brought home the value of communication and, for those with hearing loss, CI technology can be the key to connect with others. CIICA will continue to ensure that cochlear implantation remains at the front of health care decisions. Visit www.ciicanet.org to find out about our global activities and see a video about the challenges of the pandemic.  
"It's inspiring to hear all the advocacy work going on round the globe!" Sue Walters, President of CICADA, Australia, 
Any queries to info@ciicanet.org