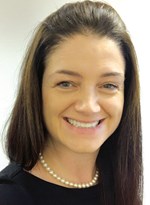 Emma Stapleton,
MBChB, FRCS (ORL-HNS),
Consultant Otolaryngologist, Cochlear Implant and Skull Base Surgeon,
Manchester Royal Infirmary, UK.
E: emmastapleton@doctors.org.uk
Twitter: @otolaryngolofox
Are you going to BACO?" was the question on everyone's lips. The year was 2006, I was a junior ENT doctor in Edinburgh, and I'd never heard of BACO.
"What's BACO?" I asked, conjuring mental images of sizzling cured pork belly on fresh morning rolls. I didn't get to attend the British Academic Conference in Otolaryngology that year, as someone had to stay behind and tend the ears, noses and throats of Scotland's glorious capital, and that someone was me.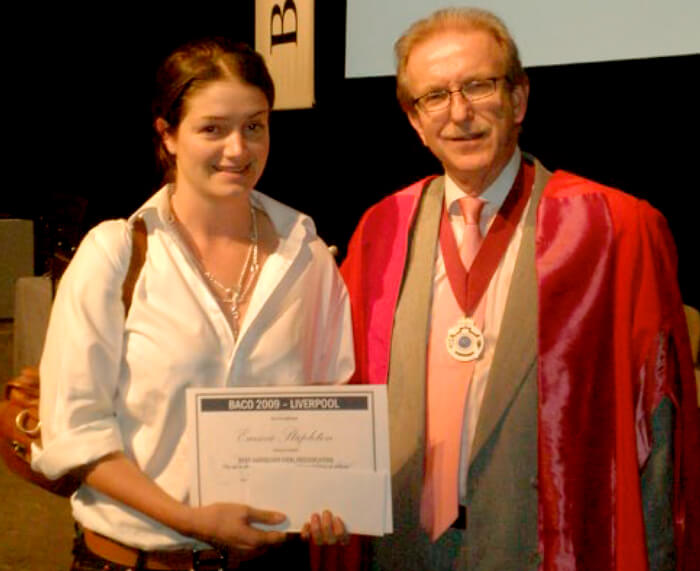 Emma's first BACO: receiving a prize at BACO 2009 from David Moffat, BACO Master.
Fast forward to BACO 2009 in Liverpool with Cambridge's finest David Moffat as BACO Master, and I was there. Three days of education, socialising, and nervously stammering through awkward conversations in what I now know to be 'networking.' The concept of networking still brings me out in a cold sweat, though I've discovered it gets easier and more enjoyable with advancing age, familiarity with the conference environment, and a positive mental attitude.
Chris Potter points out that BACO has come around quickly this time, and he's quite correct. First held in 1963, BACO was initially four-yearly, then three-yearly. BACO 2020 will be the first with a mere two-year interval, with memories of Manchester BACO 2018 fresh in our minds.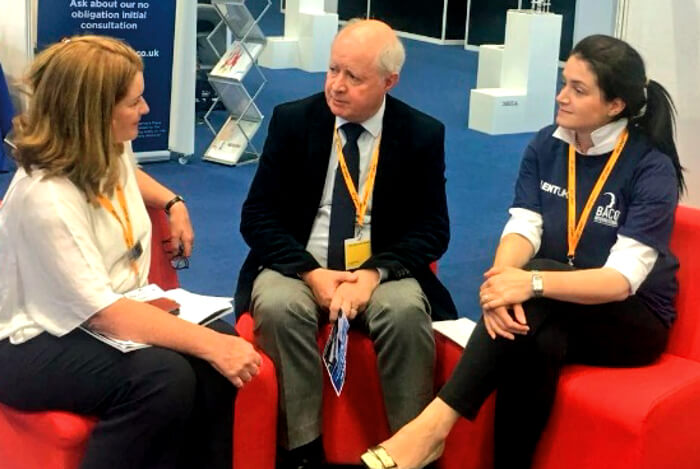 ENT & Audiology News' Rosaleen Shine at BACO 2018 with BACO 2020 Master Gerry O'Donoghue, and Emma Stapleton.
One of the many unique features of BACO 2020 is collaboration with AAO-HNS. There will be a strong AAO-HNS presence at the event, with well-known names from across the pond on the academic programme, as well as a number of leading figures from other international otolaryngological societies. BACO offers a number of generous scholarships to colleagues in low and middle income countries, which will create a rich and diverse group of delegates.
Several other unique features have been brought to life by Gerry O'Donoghue, BACO Master 2020, including an attractive pricing structure. The event will be family-friendly, eco-friendly, and has a policy to minimise manels. There'll be a cadre of inaugural BACO Awards, currently accepting nominations, to be decided by a vote in April 2020. Awards are available for Rising Star, Best Trainer, Global Health, Innovation, and Allied Professional. Please consider nominating your worthy colleagues. The BACO Party is not to be missed, with The Arrythmics playing, and plenty opportunity to network with colleagues in an informal environment.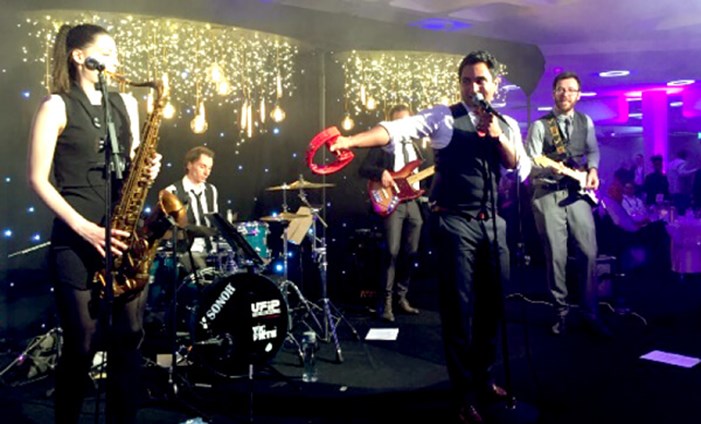 Joe Manjaly and The Arrhythmics rocking their socks off.
If you've never visited Birmingham, please take a look at Lucy Dalton's lovely article. England's second city has a huge amount to offer the discerning visitor, in addition to the UK's premier ENT event. Are you going to BACO? I'll see you there.