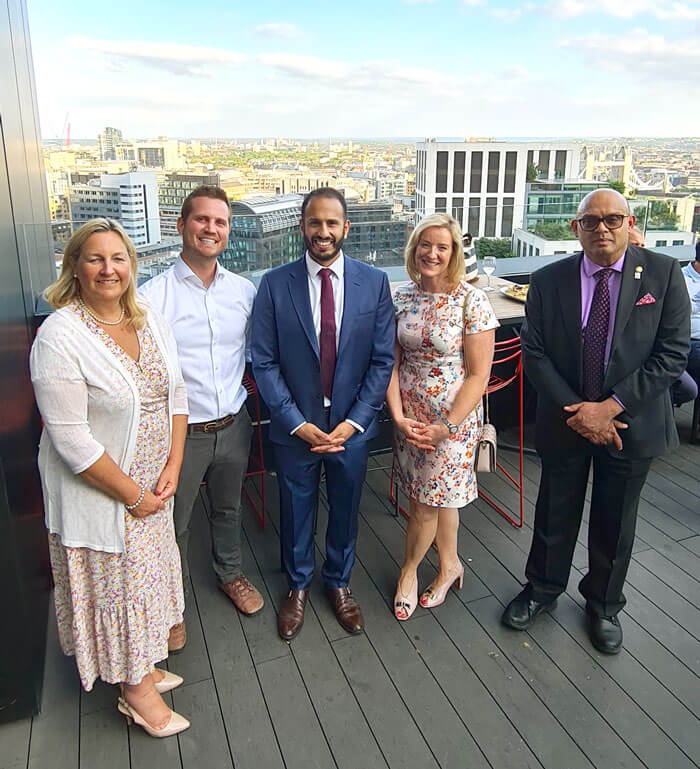 Three of the recipients of ENT UK Foundation awards, L–R: Wendy Smith, John Hardman and Manish George, along with Victoria Ward and Nirmal Kumar.
The ENT UK Foundation is the philanthropic and fundraising arm of ENT UK that seeks to invest in a range of projects to improve patient care. The projects, diverse in terms of their topics and geographical location, are well supported through donations from several sources, both corporate organisations and private individuals. 
A summer drinks reception on 14 July was kindly supported and hosted by Howden Insurance Brokers and took place on its roof terrace and venue space in the City of London. On a beautiful warm and sunny evening, as we overlooked the familiar landmarks of the Shard, the Gherkin, and Tower Bridge, we celebrated the excellent work being done by the foundation.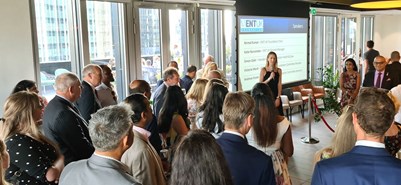 There were presentations for three ENT surgeons who were in the first batch of recipients of foundation grants; these have funded a range of projects including development of artificial intelligence, research on unknown primary cancers, and renal cancer presenting with cough.
The project is the brainchild of Professor Nirmal Kumar whose speech was enthusiastically received. More information on the ENT UK Foundation can be found here: https://www.entuk.org/about/ent_uk_foundation.aspx
We will continue to keep you updated about future developments.
Above right: Katie Nurcombe, new ENT UK General Manager, speaks to the guests at the reception.