The UEMS-ORL Board was very pleased to announce that on Saturday 17 October 2020, the Council of the UEMS and National Medical Associations of Europe confirmed and approved the European Training Requirements (ETRs) in general ORL and the ORL General Logbook.
"This is the first time that our training standards and logbook have been submitted to, and successfully recognised and acknowledged by EU Medical Associations.
The documents have taken three years of hard work of preparation and were successfully defended in Council. We appreciate the dedication and commitment from all the contributors and also the feedback from the Boards of the following societies which make these documents truly pan-European:
European Rhinologic Society
European Laryngologic Society
European Academy of Otology and Neuro-Otology
European Society of Paediatric Otorhinolaryngology
European Academy of Facial Plastic Surgery
European Head and Neck Society
European Academy of Phoniatricians
As you can imagine, there was significant behind-the-scenes diplomacy, hard work and teamwork by the Board to bring this event to its successful conclusion and surmount several obstacles.
We look forward to the future with a unified European ORL voice comprising UEMS-ORL, our European Board examination partners, EBEORL-HNS, and the European confederation, CEORL-HNS.
The General ORL Logbook last updated version and the final ETR document will available soon on our website - www.orluems.com."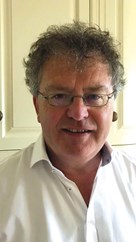 Mr Adrian Agius, Malta, General Secretary UEMS-ORL
Prof John Fenton, Ireland, President UEMS-ORL
Dr med Joachim Wichmann, Germany, Treasurer UEMS-ORL
Dr Maria de la Mota, Spain, Secretary UEMS-ORL
 
UEMS-ORL President, Prof John Fenton.