Fifth Sense, the registered UK charity for those affected by smell and taste disorders, is delighted to announce that the organisation has been granted an award of £238,815 by the National Lottery Community Fund. The award will deliver the outcomes contained in an ambitious, fully costed, three-year development plan developed by the Fifth Sense board of trustees, with consultancy advice, between March 2018 and March 2019. It featured significant contributions from Fifth Sense beneficiaries, several of whom provided telling testimonies for the National Lottery decision panel, and was augmented by letters of support from some of the UK's leading consultant ENT surgeons. 
To have grown to this point – so soon after the charity's launch in 2014 – is a remarkable achievement of which Fifth Sense is hugely proud. The organisation was able to draw on a large body of evidence in developing the application, including the results of various surveys sent to members and feedback received at events. As testimony to the relevance and reach of Fifth Sense, the organisation recently passed the milestone of a million visitors to its website since it was re-launched only three years ago.   
Through a volunteer network operating at local levels, Fifth Sense has already pioneered a successful model of patient, volunteer and clinician partnerships (called 'Hubs') that exist in Newcastle (in partnership with Newcastle Freeman Hospital) and Scotland (Ninewells Hospital, Dundee). Through such Hubs Fifth Sense provides patient support, information and crucially – where possible – signposts to diagnosis and treatment.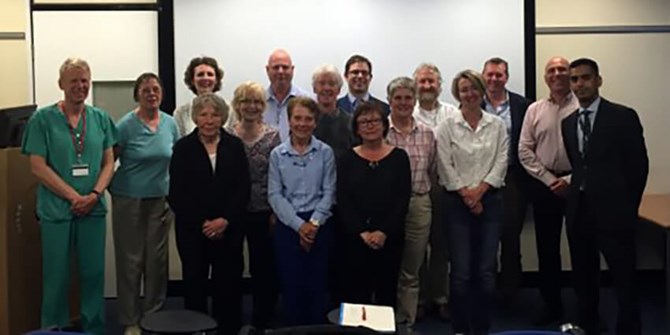 ENT Consultant Surgeon Mr Paul White (far left), his colleagues and Fifth Sense volunteers at Ninewells Hospital, Dundee.
Mr Sean Carrie, Consultant ENT Surgeon at Newcastle Freeman Hospital, shares his Hub experiences; "I have been fortunate enough to work with Fifth Sense on a number of patient information exchange days. This has enabled patients and clinicians to share good practice, challenges and frustrations with one another. This cooperative working is leading to avenues of research to improve understanding and treatments in the future. This would not have been possible without Fifth Sense."   
Other activities undertaken within Hub areas include informal member gatherings at which people share stories and offer support to each other and Fifth Sense participation at certain local events, including those aimed at the wider public, such as food festivals or science events.   
The development plan – enabled by the National Lottery money and set to roll out over three years – will significantly increase Fifth Sense's reach and capabilities. Two new salaried appointments – a Development Director and Information Officer – will drive forwards the ambitious agenda. Three new Hubs are planned – for London (Guys and St Thomas's), Liverpool (University Hospital Aintree) and Birmingham (Queen Elizabeth Hospital).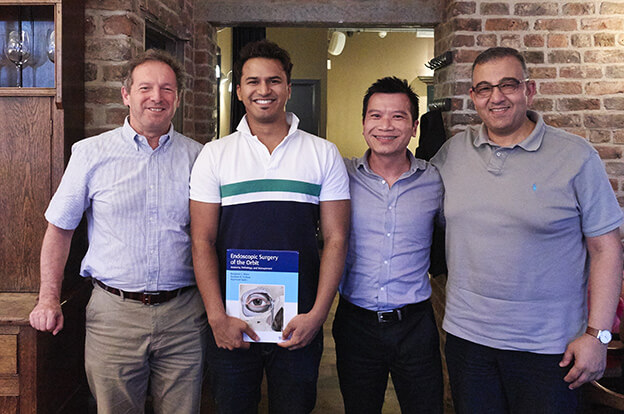 Rhinology Team at Aintree University Hospital in Liverpool. (L-R) Andrew Swyft, Gaurav Medikeri (Liverpool rhinology fellow 2018-19), Samuel Leong and Omar Ayoub.
Professor Claire Hopkins, Consultant ENT Surgeon at Guy's Hospital in London, is delighted to be partnering; "Fifth Sense is an invaluable resource. It provides important information on the different causes, practical instructions for smell training, advice on safety issues, and directs patients to active trials. I already direct all my patients to Fifth Sense at the end of my consultations." 
On a national level, Fifth Sense will be upping its game with social media and PR activities to better address the lack of understanding that persists within the medical profession and general public.
Fifth Sense founder and Chair, Duncan Boak, provides a personal message in this video. 
Fifth Sense wishes to thank the National Lottery Community Fund – the largest funder of community activity in the UK – for their recognition of the work it is doing. Thanks must go to all who play the National Lottery and importantly, everyone who has supported Fifth Sense and donated – whether money, time, or expertise – to help the organisation reach this point. It is a fantastic example of what can be achieved when a community of people with a shared purpose works together.