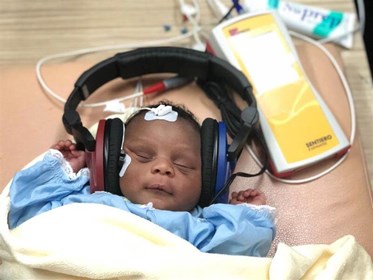 To mark World Hearing Day, a global project has been created to provide access to ear and hearing care services for thousands of people living with undiagnosed and untreated hearing loss.  
Recent data from the World Health Organisation shows that 20% of the world's population is living with hearing loss – a staggering 80% of which live in middle and low-income countries. The Hearing Healthcare Alliance has been formed to help tackle this. 
The body is the work of the Austrian Development Agency (ADA), the operational unit of Austrian Development Cooperation, and a global manufacturer of hearing implants, MED-EL. They have brought together an international network of more than 120 organisations and experts in the field of education, global health and hearing care to form the new body. 
The alliance will implement a five-year programme, part funded by the ADA and managed by MED-EL, to improve the diagnosis, treatment and rehabilitation of people with hearing loss in 14 developing and emerging countries around the world.  
A lifetime of hearing  
People with hearing loss may wait a decade before seeking help. Among the reasons untreated hearing loss is all too common are limited access to qualified hearing healthcare professionals and hearing technologies, limited funding, stigma, and low awareness of the impact of hearing loss. 
Working with local communities in East and West Africa, Pakistan, Nepal, Bhutan, and Bangladesh, MED-EL's Hearing Healthcare Alliance will create ear and hearing care services, introduce qualifications for hearing and healthcare professionals, and raise awareness of hearing loss. In just three years, nearly 100,000 people with undiagnosed and untreated hearing loss will directly benefit from the expertise of the alliance. 
"Hearing loss is on the rise, which is why people of all ages need access to quality hearing care and treatment regardless of where they live," says Dr Ingeborg Hochmair, CEO of MED-EL. "Applying our knowledge and expertise, we can continue to positively impact the lives of people living with undiagnosed or untreated hearing loss around the world." 
Nearly 60% of hearing loss in children is avoidable
The Hearing Healthcare Alliance will equip local providers with the skills and equipment needed to ensure that 51,000 babies and children receive vital (new-born) hearing screening. The tests are a quick and painless first stage in identifying hearing loss, before deciding the best treatment option such as medication, hearing aids or cochlear implants.  
Currently, nearly 93% of low-income countries have less than one audiologist per one million people. Through the Hearing Healthcare Alliance over 650 healthcare professionals will be able to access hearing care workshops or undertake new undergraduate and postgraduate qualifications in hearing sciences, and audiology and speech language pathology.  
"Our latest partnership with MED-EL builds on the experience gained through our award-winning hearing care initiative in Côte d'Ivoire and Bangladesh, which focused on new-born hearing screening and professional education," says Dr Friedrich Stift, Managing Director of ADA. "Partnerships like these are central to bringing about sustainable and systemic change that benefits local communities and makes a measurable contribution to achieving the Sustainable Development Goals (SDGs) and WHO resolutions on hearing care."  
More information at: https://hearinghealthcare.medel.com