Audiology, Indian Subcontinent, Krishna Yerraguntla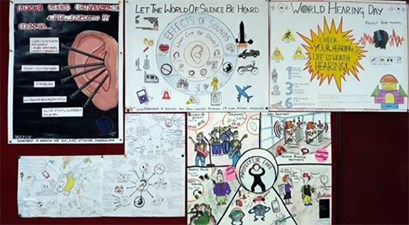 Over 466-million people live with disabling hearing loss and global costs of unaddressed hearing loss is 750-billion international dollars. Thus, to alleviate the impact of hearing loss on lives of people, The World Hearing Day is being observed since 2015 each year, thanks to Shelly Chadha (Technical Officer) and colleagues at WHO, to raise awareness on how to prevent deafness and hearing loss and promote ear and hearing care across the world. 'Check your hearing' was the theme for the year 2019. Its observed 67 countries (298 activities) participated this year of which 46 activities are from India.
The some of the participants from India were: Institute of Speech and Hearing (AIISH); Mysuru; AYJNISHD; along with regional centres in Mumbai, Kolkata, Noida, and Secunderabad. Free hearing screening camps, awareness lectures, recognition of persons with hearing disability are the activities carried out. For further details please visit https://www.who.int/deafness/world-hearing-day/WHD_2019_activities_report.pdf
ENT, Australasia, Harvey Coates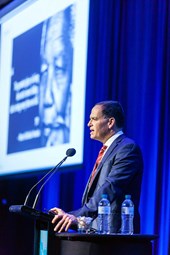 The Australian Society of Otolaryngology Head & Neck Surgery (ASOHNS) President, Mr Phil Fisher announced that the Australian bid for hosting the 15th Asia-Oceania ORL meeting in 2023 in Brisbane was successful. He also announced the successful National data registry of Tonsillectomy, grommets and septoplasty and foreshadowed a national head and neck surgery audit, followed later by cochlear implantation and rhinology. The annual scientific meeting (ASM) in March 2019 in Brisbane was very successful with highlights being Professor Peter Friedland's standing room only talk on Nelson Mandela, and the paediatric section with guests Karen Zur and Ben Hartley. Former ASOHNS President Mr Dean Beaumont AM was awarded Life Membership of the Society. Preparations are well in place for the March 2020 ASM in Sydney with invited speakers including Professor Catherine Birman from the Sydney Cochlear Implant Centre discussing her experience of over 1000 cochlear implants.
(Image: Professor Peter Friedland lecturing about his friend and patient Nelson Mandela.)
The Federal Minister for Aboriginal Health, Honourable Mr Ken Wyatt AM announced a National Roadmap for Ear and Hearing Health which included ASOHNS otolaryngologists Professors Kelvin Kong and Harvey Coates as well as representatives from other professions and industries. This has been presented and accepted by Ministers from all the States and will be rolled out over the next five years. Significant resolutions included increased funding for Aboriginal ear health and research, a national newborn hearing screening database with links to the national 'Myhealthrecord' personal health record and increased employment and training positions in many professions.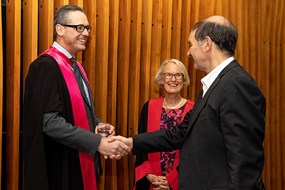 The inaugural Garnett Passe and Rodney Williams Memorial Foundation Chair in Otolaryngology, Head and Neck Surgery at the University of Auckland, Professor Richard Douglas gave his first address recently to universal acclaim. The NZSOHNS ASM was held in Queenstown in 2018 and the 2019 meeting is planned for Dunedin in October with a full and exciting programme promised.
(Image: Inaugural GPRWMF Professor Richard Douglas with the Dean and Cardiac Surgeon at his first oration.)
ENT, North Africa and Middle East, Hesham Negm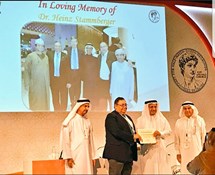 Among the most important was the 9th Emirates Otorhinolaryngology, Audiology and Communication disorders congress (EROC) in Dubai UAE 16-18 January 2019, it was organised this year in collaboration with the German society of Otorhinolaryngology and Head and Neck surgery. It was attended by 1800 participants, and hosted up to 200 speakers from 43 countries. During the opening ceremony the congress honoured the name of the great Professor Heinz Stammberger.
(Image: Honouring the name of Professor Heinz Stammberger.)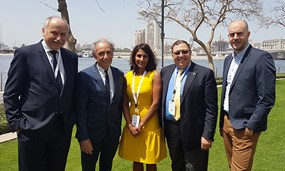 The IFOS World master course in Hearing Rehabilitation in collaboration with the GCC symposium of Otology which took place Dubai 28-30 March, it was organised in collaboration with the French Otolaryngology society represented by renowned French professors. The course consisted of three days of lectures and video sessions to increase awareness and improve service in this field in the region.
(Image: IFOS Master course Dubai 2019.) 
In my country Egypt this year an ambitious programme for hearing screening of children started, all neonates are screened using a two-stage protocol. There were 1300 units throughout the country chosen to perform the screening.
ENT, North America, Gregory Randolph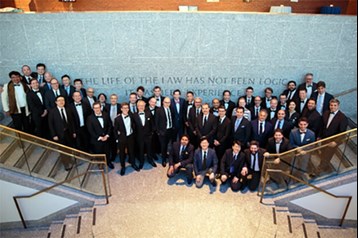 I am pleased to report that The World Congress on Endoscopic Ear Surgery 3.0 took place in Boston, Massachusetts on June 13-15, 2019. Chaired by Michael Cohen and Daniel Lee of Massachusetts Eye and Ear and Harvard Medical School, WCEES 3.0 attracted 450 delegates from 50 countries, 14 corporate sponsors, and over 20 exhibitors. Highlights included keynote speakers David Kennedy, John House, Muaaz Tarabichi, and Dennis Poe, a pre-Congress workshop with live surgery and hands-on dissection led by Alicia Quesnel, panel discussions on novel drug and vector delivery approaches for outer and inner ear regeneration, robotic-assisted endoscopic ear surgery, and exoscope-assisted ear and lateral skull base surgery. Emmy-Award winning videographer Greg Randolph Jr chronicled WCEES3.0 and videos from the meeting can be found here. 
(Image: Black Tie event at the 4th World Congress on Endoscopic Ear Surgery.)
The biennial 4th World Congress on Endoscopic Ear Surgery will be held 6-9 April 2021 in beautiful Kyoto, Japan, at the ROHM Theatre and Miyako Messe. Chaired by Professor Seiji Kakehata, this international event will highlight innovations in endoscopic and exoscopic ear and lateral skull base surgery during the peak of the cherry blossoms in Kyoto. The congress will be followed by a satellite symposium in Yamagata, Japan, later that week. Guests of honor include Profs Yasuya Nomura, Naoaki Yanagihara, Livio Presutti, and Muaaz Tarabichi.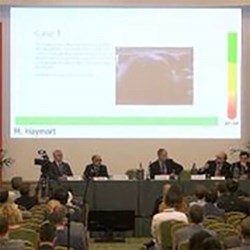 The World Congress in Thyroid Cancer (WCTC) is the largest meeting in the thyroid surgical space starting initially in 2009 in Toronto. WCTC 3.5 took place in Rome, Italy June 20 - 22, 2019 under the direction of the WCTC Steering Committee and the Rome Co-Chairs Rocco Bellantone and Celestino Lombardi. More than 750 delegates participated from 70 different countries, with excellent reviews on the three days of high-quality education. Featured was a real time transcontinental thyroid cancer panel joining renowned faculty of the WCTC 3.5 in Rome with world class faculty in Buenos Aires at the Latin America Thyroid Congress -the first ever such transcontinental educational event!
(Image: World Congress in Thyroid Cancer 3.5.) 
WCTC 4.0 will take place in Boston July 29 - August 1, 2021. We hope to draw over 2000 delegates to this one of a kind event. The programme will be posted, and registration can be obtained through www.thyroidworldcongress.com as the details become confirmed. There is an exceptional video library of sessions from WCTC 3.0 and WCTC 3.5 which will also be available on the main website.