In July 2020, the Global CI Collaborative launched a series of webinars to highlight the challenges and learnings COVID has brought to the cochlear implant world. COVID has changed healthcare practice globally, requiring rapid service reconfiguration and novel pathways to deliver cochlear implantation for all ages.

This innovative and exciting series was coordinated by Professor Gerry O'Donoghue, Nottingham University, and featured presentations from leading experts. Drawn from 15 countries, the webinars were delivered by over 40 of the world's leading hearing specialists and their patients, and offered a unique opportunity to explore the impact of COVID on cochlear implant services on a global scale.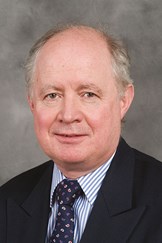 "This 'pop-up' collaborative demonstrated the remarkable agility of the global cochlear implant community in restoring their clinical services and research programmes in ways not dreamed of only a few months ago"
said Prof Gerard O'Donoghue.
The series launched with an examination of 'Reconfiguring CI services and the new normal' chaired by Prof O'Donoghue.

This was followed by:
'No touch CI pathways: will COVID-19 drive innovation?' chaired by Helen Cullington (Southampton).
'Assuring early CI intervention: Post COVID-19' chaired by Catherine McMahon (Sydney).
'Global responses of CI services to COVID-19' chaired by Howard Francis (North Carolina)
'CI research at a distance: a post-COVID challenge' Chaired by Deborah Vickers (Cambridge).
With over 500 people registered for each webinar, this series has been an incredible success and a second series is in the planning stage.
All the recorded presentations are available as a valuable learning resource at https://adulthearing.com/ci-futures-forum/ and are recommended for all hearing health professionals, cochlear implant teams, cochlear implant users, advocacy groups, and commissioners of healthcare.