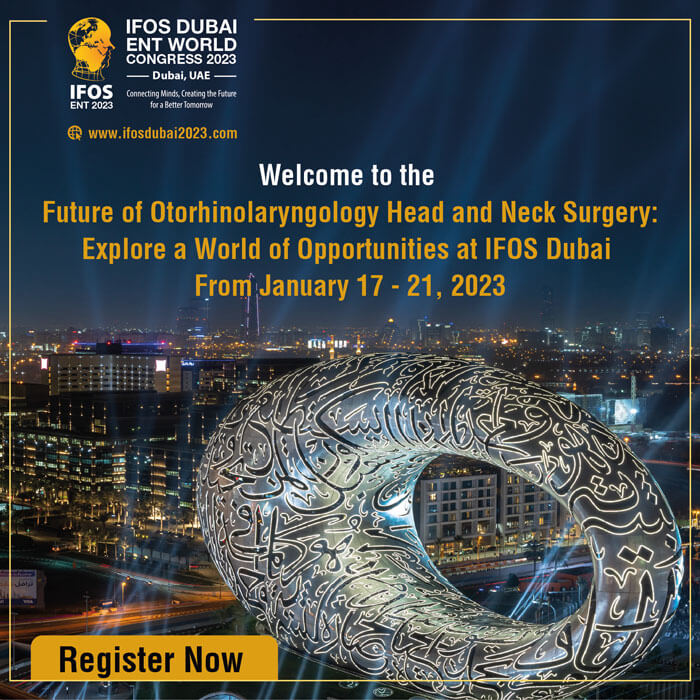 The Dubai World Trade Centre will open its doors on 17 January 2023 to welcome delegates to the IFOS 2023 World ENT Congress. IFOS has a long-standing tradition of education and continues to champion training for otolaryngologists and allied health workers from around the world.
Join the congress in person from 17-21 January 2023 to share knowledge and understanding of global OHNS diseases and their treatment.
The highly anticipated congress will deliver a stellar programme packed with expert-led panels, exciting case discussions, hot-topic debates, hands-on training, educational courses and much more. There will be more than 3,000 presentations by more than 800 speakers on 13 specialised tracks, along with numerous courses and industry-led sessions.
It promises to be the quintessential platform for exceptional research in the field of otolaryngology. The scientific committee aims to offer state-of-the-art science to all delegates. The abstracts selected by the committee reflect that mission and every accepted abstract will take its turn in the spotlight during the five days.
The IFOS humanitarian committee has formed a specialised track to equip healthcare professionals and students with information about community health, patient care and career development. Keynote sessions, panel discussions, round tables and symposiums will cover key topics in this area, such as global OHNS initiatives, open access to education to address global otolaryngology inequalities, global hearing health, WHO's current actions in ear and hearing care, women in otolaryngology, and practical guidelines in low-resource settings in head and neck surgery.
Registration has opened and special fees are available for students, nurses, young fellows, language pathologists and audiologists. The organising committee has also decided to give special humanitarian support with lower fees for residents from Afghanistan, Lebanon, Sudan, Syria, Ukraine and Yemen.
For more information on programme, speakers, exhibition, social events, and registration, please visit our website www.ifosdubai2023.com