HearAdvisor is a new audio testing lab designed to understand how the performance of hearing aids differs. In its sound-treated acoustic test lab, HearAdvisor has evaluated over-the-counter and prescription hearing aids and made the data available on HearingTracker, an online hearing aid resource. 
"Everyone deserves access to accurate, reliable information when it comes to their hearing health," said Steve Taddei, a doctor of audiology, audio engineer and co-founder of HearAdvisor. "We're committed to providing that through our lab recordings and objective metrics." 
Purchasing a hearing aid can be overwhelming. With so many different brands, models and features to choose from, it is hard to know which performs best. Marketing claims do not always make it easier.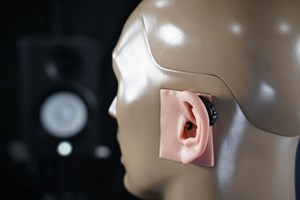 Taddei said HearAdvisor's mission is to change that. Using an acoustic manikin, lab-recreated ambisonic audio environments and validated scientific metrics, HearAdvisor assesses how well real hearing aids perform on the ear. Visitors can listen to the lab's recordings and compare prices for popular models at HearingTracker.  
"Consumers with hearing loss need much better information to make decisions, especially given the thousands of dollars they may spend on a pair of premium hearing aids," said HearingTracker founder Abram Bailey, AuD. "HearAdvisor's independent, objective scientific data will introduce a new dimension of information for shoppers who until today had to rely on marketing claims and the subjective opinions of product reviewers."