Researchers based in Nottingham are launching an in-depth and ongoing study into the possible effects of COVID-19 on patients' hearing, tinnitus and balance.
The CHEAR (COVID and hearing, otherwise known as 'Measuring Hearing, Tinnitus and Balance following COVID-19') Study will involve around 100 patients living in the East Midlands region, and is being launched this spring.
Hearing experts at the National Institute for Health Research (NIHR) Nottingham Biomedical Research Centre (BRC) and the University of Nottingham are ideally placed to investigate the reported links between COVID-19 and the impact upon hearing health, using the dedicated and high-tech hearing research facilities at Nottingham University Hospitals NHS Trusts' Ropewalk House and the expertise of its staff in hearing diagnostics.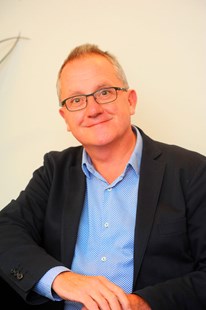 Prof David Baguley.Professor David Baguley, Principal Investigator for the CHEAR Study and Professor of Hearing Sciences at the Nottingham BRC, said:
"We're excited to be launching this innovative study which has the potential to help patients who have hearing problems which might be caused by infection with COVID-19. If we can determine how many people have these problems and what the mechanisms are, that will help us with early identification and with potential interventions to assist these patients."
There have been suggestions that COVID-19 may impact patient's hearing, cause or worsen tinnitus (ringing or other sounds in patients' ears) and affect people's balance. It has also been suggested that some treatments for COVID-19 may also affect people's hearing, tinnitus or their balance.
However, no published study or trial has yet systematically assessed hearing-related outcomes following patients' recovery from COVID-19, so the short and longer-term implications for people's hearing health are largely unknown.
Prof Baguley continued: "There are many people that have had COVID-19 who want to make human understanding of this disease deeper and better, so the CHEAR study is a real chance to contribute to our research efforts in Nottingham."
Researchers will make full use of the latest technology during the CHEAR study, including the use of a highly sensitive and specific high-frequency hearing test, which extends beyond the usual frequency range in tests and is a valuable tool in detecting hearing loss.
Patients who are self-isolating can conduct the test online from their homes without the need for audiological equipment, so reducing the need for visits to a clinical facility, except for the need for them to attend an initial 'baseline' hearing assessment at Ropewalk House at the start of their involvement.
Volunteers taking part in the CHEAR study will be monitored over a two-year period to see how their hearing loss, tinnitus and any balance problems develop over time.
The research project is sponsored by Nottingham University Hospitals NHS Trust (NUH) and will be run by Nottingham BRC and the University of Nottingham.
People who have had COVID-19 and would like to be take part in the trial should contact Charlotte Caimino with their contact details using email: Charlotte.Caimino@nottingham.ac.uk