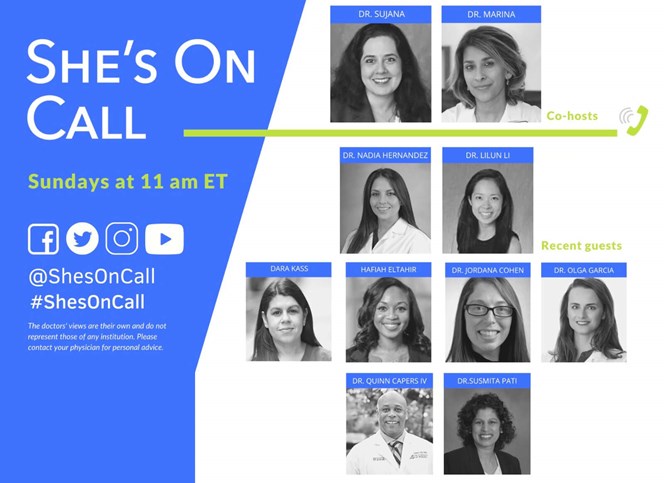 What can a physician do during a pandemic lockdown?
Dr Sujana Chandrasekhar and Dr Marina Kurian began a web show, She's On Call, which had 5000 views on the first day and has had over 15,000 views after three shows. By the end of March 2020, emergency departments and, soon, entire hospitals were overwhelmed with very sick COVID-19 patients.
Healthcare workers lacked PPE, knowledge, and resources to help our patients and to keep ourselves and our families safe. Patients were caught in a sea of politicised and often grossly incorrect information. One thing physicians do well is synthesise complex information for patients. General Surgeon Dr Kurian continued her weekly radio talk show on SiriusXM. Otolaryngologist, Dr Chandrasekhar, made videos about COVID-19 on her YouTube channel, 'Dr Sujana'. Journalism professor and technology entrepreneur, Sree Sreenivasan, began a daily COVID-19 show (over 120 shows and over 200 guests), and added a physician guest to his five-year strong weekly Sunday New York Times Readalong show– find them on YouTube at 'Sree Sreenivasan'. The trio then launched an hour-long web show hosted by Drs Chandrasekhar and Kurian. On Sunday, 14 June 2020, She's On Call, a weekly livestream show, premiered, to a worldwide audience.
Each Sunday at 11am ET (3pm GMT), they talk about the important medical news of the week and feature two guest medical experts. Viewers ask questions and get answers in real time. The conversation is lively and informative, and has so far covered COVID-19, Emergency Medicine, Otolaryngology, Facial Trauma, General Surgery, Anesthesiology, Nephrology, Cardiology and Paediatrics.
Join She's On Call live on Facebook, Twitter, Scroll.in, LinkedIn and YouTube @ShesOnCall and #ShesOnCall!
FURTHER INFORMATION
Facebook: www.facebook.com/shesoncall
YouTube: www.youtube.com
Twitter: https://twitter.com/shesoncall