It is estimated that 5% of the population (around 3 million people in the UK) have a smell disorder, meaning they are unable to smell properly, if at all. Anosmia, the loss of smell and taste, is one of the recognised symptoms of COVID-19. Over 50% of patients with the virus will lose their sense of smell, but most will recover it after two or three weeks.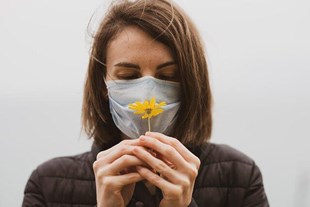 However, for 10% of people, this loss of smell can last anywhere from eight weeks to several months.
AbScent and Fifth Sense, two charities for people affected by smell and taste-related disorders, recommend smell training to support recovery from persistent smell loss. 
 AbScent Smell Training
Smell training is actively sniffing the same four scents every day, spending around 20 seconds on each scent and really concentrating on what you're doing.
It's that easy. It's safe, it's recommended by doctors, and anyone can do it.
You will need:
Four different fragrances - this is your smell training kit
A few minutes every day
You can read more about the Absent Smell Training on their website - https://abscent.org/learn-us/smell-training# 

Fifth Sense SmellAbility©
SmellAbility is an assortment of tools to support people with a smell disorder. It includes testing current smell ability, smell training guidance, and some FAQs. Fifth Sense will be continually reviewing, improving and increasing the resources available to support self-help.
You can read more about the Fifth Sense SmellAbility on their website - www.fifthsense.org.uk/smell-training/ 

Look out for more on this topic in our July/August issue which will have a special focus on Smell.