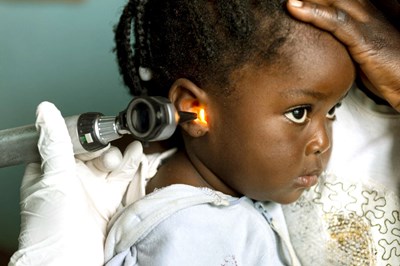 In Wroclaw, Poland, there was a hybrid conference about hearing prevention in noisy workplaces. In Melbourne, Australia, there was a hearing awareness event for refugees. In Cambodia, they worked with monks at Buddhist temples to raise awareness of age-related hearing loss and offer hearing aids for those in need. 
These are just a sample of the hundreds of events that took place to mark World Hearing Day on 3 March – the date selected because 3.3 resembles the shape of our two ears. 
"It is exciting to see World Hearing Day being celebrated with such a wide range of events across the globe," said Keiran Joseph, Clinical Lead, Evelina London, Children & Young People's Audiology Centre, Guy's & St Thomas' NHS Foundation Trust, UK. "It is amazing to see the world come together to recognise the importance of hearing." 
Other events included a Mexico-wide campaign aimed at video gamers, DJs and music fans to highlight the impact of hearing loss in teenagers. At the same time, the Association of Otolaryngologists of India, West Bengal, held a conference involving the training of junior ENT surgeons on ear surgeries and lectures on ear and hearing care by eminent ENT surgeons.  
The World Hearing Forum launched a website under the banner 'Ear and hearing care for all!' to tell stories of high-profile supporters and everyday 'changemakers'. And in the UK, the National Institute for Health and Care Research joined forces with Nottingham Biomedical Research Centre and the University of Nottingham to launch a research programme to help people living with dementia and hearing conditions to make their views known.  
Keeping up with the times, hearing care company Amplifon launched a TikTok channel.
In advance of the day, WHO Director General Tedros Adhanom Ghebreyesus, whose birthday is 3 March, stressed the importance of hearing to our physical and mental health. "Our hearing is a precious gift, yet ear and hearing problems are among the most common in the world," he said. "WHO calls on governments to work with us to champion a vision of accessible ear and hearing care for all."