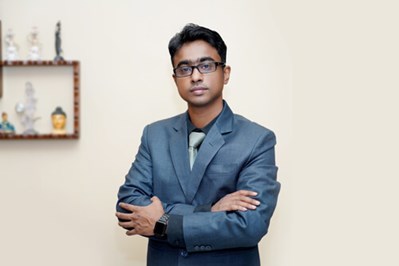 When Arup Senapati broke out a cheery dance at work, he had little idea it would go viral on social media. Sunil Dutt caught up with him to talk about life, dance, and COVID-19
Click below to see the video of Dr Senapati dancing:
Video courtesy of BBC/YouTube
Your recent dance video with PPE has created a sensation on social media. What inspired you?
As we all know, COVID has taken more than 1.2 million lives at this point. It is indeed the worst thing to happen in this century. So there is lot of negativity in the world at the moment. The reason I did this video was to create positivity amongst the people. I did it for my patients and for my colleagues. We have been called warriors, and a warrior should have two things: courage and positivity. Dance is a way of expression I believe - through my dance, I wanted to tell my fellow warriors, my patients, and all the people suffering during this pandemic, that we will together fight against this trouble. We will fight; we will win. We are all in a state of darkness but together we will reach the light at the end of the tunnel.
I know you are a first-year postgraduate resident in ENT. What made you take up ENT?
Oral and throat cancer is a growing problem in India, and particularly in Northeast India. I took up ENT because I want to treat the people suffering with this problem.
How is your COVID duty? How are you and your co-PGs coping?
This is my first COVID duty. At first, I was apprehensive about donning the PPE for eight hours. But after doing it, I realised that I could actually make my patients happy. I remember a lady who was diabetic and overweight; I used to wake her up and feed her tea and make calls to her children (since she did not have a phone). I will forever remember the smile I could bring to her face. So yes, I had a tremendously good COVID duty. My colleagues also have fought, and will always fight, against COVID. Some of them have done three-to-four COVID duties, but they are going into the next round with a smile on their face.
Where did you learn dancing? What are your other hobbies?
Honestly, I have never gone to any institute to learn dancing. For me, dancing has been always an art of expression. If Michael Jackson and Prabhu Deva were Drona, I felt myself as Ekalevya. I never met them; just followed whatever they did. As I grew, Hrithik Roshan would be my next inspiration - I have learnt a lot from him. I love singing and I am a techno-freak!
What was the response from your COVID patients to this performance of yours? How else do you keep their moods elated?
In Bengali, they uttered "khub bhalo" which means "too good". I am always a joyful person and love to keep people around me happy. I am happy the patients took it in a positive way. I always talk to them and ask them what they need. Many patients don't have their phone with them, and I let them talk with their family with my phone. I am thankful that makes them happy.
How did you pick that particular Bollywood number for your dance?
Hrithik Roshan was my dance inspiration growing up. This song, in particular, I felt was all about positivity, which I could bring to my patients and colleagues, hence why I chose it.
I am sure COVID duties have significantly impacted your ENT training. How do you reckon this will be addressed in the rest of your PG period?
I will always remember the Hippocratic Oath. I will always be for the people and my patients. This COVID duty has taught me that if we can keep the strength within us, we can serve people better. I believe this pandemic has taught me to be stronger. Life is short and I believe it's important to spread positivity amongst patients to give them the mental strength to fight the disease.
What's been the impact of the viral video on you?
To be honest, I did not know that it would create a sensation worldwide. I just did it for my patients. I am thankful to Dr Syed for uploading it and to all those who have loved and appreciated it. More than the fame, I am happy about the way people have received it.
To watch the BBC's interview with Dr Sepnapati visit: www.youtube.com/watch?v=04YhURXLAJI