Event Details
Date:
22 January 2020
- 25 January 2020
---
Location name: Crans-Montana, Switzerland
---
Location address: Hôtel De l'Etrier, Rue du Pas-de-l'Ours 31, 3963 Crans-Montana, Switzerland
---
---
---
Click to view dynamic map
Report By: Richard Townsley, Consultant Head and Neck Surgeon, University Hospital Crosshouse, Kilmarnock, UK
Amidst the picturesque surroundings of the Swiss Alps, Laryngologists from across Europe and the world met for the 10th Winter Days of Laryngology meeting. A meeting based on friendship, solidarity and a shared passion for our speciality and an ethos of sharing knowledge and expertise on the daily practice of laryngology as well as advanced research. The sun shone, there was snow on the mountains and the programme was filled with fascinating talks ranging from the central control of laryngeal function, paediatric laryngology and nerve regeneration delivered by eminent researchers and practitioners with an interest in the dark arts of the larynx. The educational programme runs in the morning and late afternoon extending into the evening, which allows delegates a couple of hours in the middle of the day to network and build friendships whilst playing on the slopes in view of the Weisshorn. The evenings are a time to mingle and socialise with likeminded people whilst enjoying raclette and warming up by the open fire.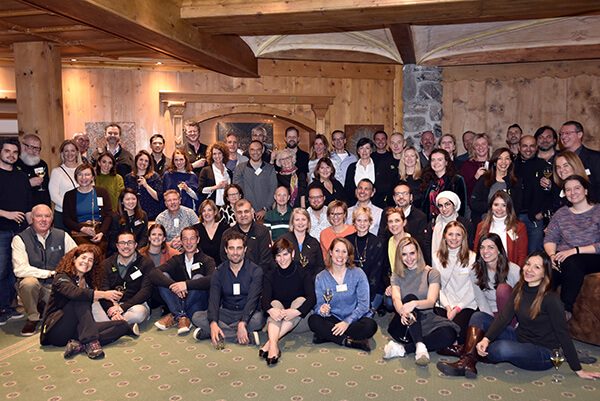 Delegates and faculty at 10th Winter days of Laryngology.
Delegates from 20 different countries, some first-time attendees and many frequent attenders to the conference filled the conference room to hear Karen Zur (Childrens Hospital of Philadelphia) deliver the keynote address on her experiences with laryngeal re-innervation in children and teenagers. This set the tone and speakers throughout the conference maintained the high standard of talks. Christian Gestreau, Marseille, gave a whirlwind lecture on the brainstem respiratory network, managing to pack an overview of half a century of research into his talk, which was a curtain raiser to his subsequent lecture on experimental approaches to swallow-breathing coordination. Talks by Ramon Franco, Boston; Michael Pitman, New York; and the always entertaining Ton Langeveld, Leiden; contributed to a thought provoking and stimulating programme covering topics including endoscopic approaches to the adult airway, neurotropic factors during nerve regeneration and treatments for spasmodic dysphonia. A round table session led by Markus Hess, Hamburg; Jennifer Anderson, Toronto; and Michael Pitman; allowed the delegates to explore office based laryngeal procedures, gleaning tips and pearls of wisdom from leaders in the field. The final morning was devoted to hands on workshops on vocal cord medialisation and lasers.
The strength and success of Winter Days of Laryngology was continued in its 10th iteration, largely due to its fantastic faculty and the friendly, relaxed and informal atmosphere which is fostered by Gautier Desuter, Marc Remacle and the organisers. This approach allows for frank and lively discussion in supportive and convivial company whilst exploring a range of aspects of laryngology.