Event Details
Date:
6 October 2020
- 7 October 2020
---
Location name: Okayama, Japan
---
---
Report

By Yuko Kataoka, MD, PhD, Senior Lecturer, Department of Otolaryngology, Head & Neck Surgery, Okayama University Graduate School of Medicine, Dentistry and Pharmaceutical Science, Japan.

On 6-7 October 2020, the 121st Annual Meeting of the ORL Society of Japan (AMOSJ), which had been postponed for five months due to COVID-19, was held in Okayama Prefecture. There were only seven new COVID cases in the prefecture in the previous week but the pandemic in Japan has not yet calmed down.
AMOSJ is the largest academic society in this field in Japan, and deals with clinical and basic otolaryngology and head and neck surgery. At this year's meeting, there were seven special lectures, 16 symposiums and panel discussions, and 42 educational lectures. In addition, 344 oral presentations and 79 poster presentations were also registered. The themes of the special lectures included dysphagia in a super-aged society; vestibular compensation and equilibrium rehabilitation; elucidation of the pathophysiology and new treatment strategies of eosinophilic sinusitis; and aiming at regenerative medicine for olfactory disorders. Most lectures, including symposiums, were distributed online, and special lectures, luncheon seminars, oral presentations and poster presentations were presented at the conference location.
The venue was divided into four buildings, 11 presentation rooms and four poster rooms. The measures against COVID-19 - including submission of health questionnaires, wearing of masks, hand washing, and social distancing - were announced on the website in advance. At the venue on the day of the event, thermopanels for measuring body temperature, alcohol disinfectants and masks were prepared. In addition, the distance between each seat was set to more than one metre, and the doors and windows were opened. Acrylic boards were built up between the presenter or chairs and the audience, and face shields were also distributed at the crowded poster venue.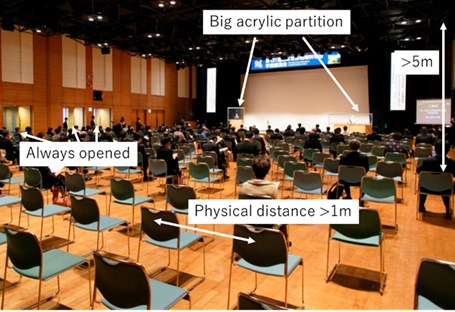 More than 1000 participants were in attendance, which exceeded expectations. The lecture hall was full, and two satellite rooms were set up for live broadcast. Participants had lively question and answer sessions, and chatted cheerfully, probably because most of them had had to 'stay in their area' for over six months.
More than 5600 people - about half of the 11,000 members of the society - registered for this meeting, including those who joined online. Some of the attendees are hoping the conference may be made available again online in future as it reduces the time and costs for travel and accommodation.