Event Details
Date:
27 November 2019
- 30 November 2019
---
Location name: Tokyo, Japan
---
Location address: Keio Plaza Hotel Tokyo, 2-2-1 Nishi-Shinjuku, Shinjuku-Ku, Tokyo 160-8330 Japan
---
Tel: +81 35 775 2075
---
---
---
Click to view dynamic map
 Reported by: Kyoko Shirai, MD
The 12th Asia Pacific Symposium on Cochlear Implants (APSCI) and Related Sciences hosted more than 1,300 attendees from 53 countries from November 27 – 30 in Shinjuku City, Tokyo. The conference kicked off with fully attended pre-symposia, co-sponsored by world leading Cochlear implant (CI) companies that showcased detailed information on new technologies, trends in treatment options and even sharing patients' stories that moved our hearts. At the opening ceremony, Professor Yamasoba, President of congress, introduced the history of APSCI with its roots from the first conference held in Kyoto by Professor Iwao Honjo and APSCI has become the leading conference in this field and now attracts delegates not only from the Asia Pacific region, but from all over the world. He also showed the participants a short movie covering the beauty of autumn leaves in Tokyo.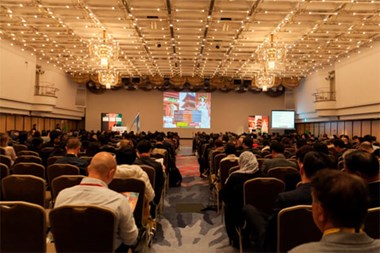 More than 1300 attendees from 53 countries.
With four keynote lectures, 32 symposia and more than 400 abstracts, the productive clinical debates on various topics related to hearing, speech, and balance disorders in the symposia were the highlights of the conference. Among them, new technologies, such as the use of robots, and the discussion on the comparison between new and traditional treatments caught the interest of many attendees. All programmes concluded with 'Criteria for CI in Different Countries' which covered not only the clinical criteria, but also the regulatory issues, including insurance systems, and the ministry's policies in each country from Turkey, Japan, Australia, Taiwan, Singapore, China, Korea and USA were introduced. Attendees learned how regulations sometimes affect the criteria or procedure for CI and this discussion has highlighted our society's mission to deepen the knowledge between CI trends in the Asia Pacific region.
In Japan, CI and bone conduction implantable devices have not been approved for single sided deafness (SSD), although bilateral CI has been approved for both adults and children. At this conference, we recognised the difference between the global and Japanese standards for CI and other implantable devices and obtained knowledge for the strategy to expand insurance coverage in Japan.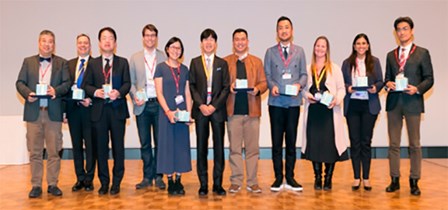 Poster Award Winners.
An education programme for Japanese practitioners was also organised and not only medical doctors but also many speech pathologists participated. The programme included presentations by an ENT doctor and medical school student who received CI. We were blessed with the opportunity to hear their actual experiences, such as changes of listening with upgrade of speech processor, problems with CI in real life, and the necessity of consideration of the surroundings.
In addition to the academic discussion, the attendees also enjoyed the Japanese cultural experience of kimono wearing and tea ceremony at the venue. During the tea ceremony, the tea teacher taught us how to prepare, serve and drink matcha-tea, and we learned that in every detail there is the Japanese sense of harmony and showing respect for each other!
At the closing ceremony, the winners of poster awards were presented, which were evaluated by the board and the local organising committee. The best award went to Dr Agnes Wu from The University of Melbourne where the next meeting will be held in 2021.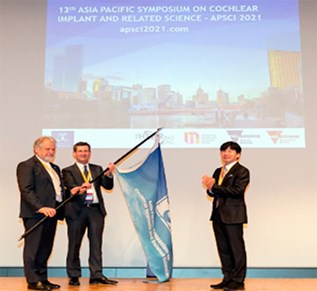 Flag Handover to Melbourne.

Join us in Tokyo, Japan, for our 12th Asia Pacific Symposium on Cochlear Implants and Related Sciences (APSCI2019) on 27-30 November, 2019. This exciting meeting features the latest clinical research findings, to academic debates between experts on hearing, speech, and balance disorders while offering access to hands-on technology samples that have never been seen before. The symposium will take place at the Keio Plaza Hotel in Shinjuku, which offers easy and quick access via public transportations to all facets of Tokyo's famous sightseeing spots including Asakusa, Akihabara, and Shibuya.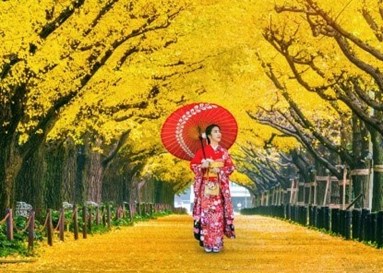 APSCI is a meeting that brings to issue the high prevalence of hearing loss and its deep impact upon the impaired person's quality of everyday life (QOL) with its primary focus on hearing impairment, artificial hearing equipment, and language development. The first symposium was held in Kyoto in 1996 by Professor Iwao Honjo and the third APSCI in Osaka in 2001 by Professor Takeshi Kubo. Since then, APSCI has become the leading conference in this field and now attracts delegates not only from the Asia Pacific regions, but from all over the world.
Abstracts Submission will be from 1 April to 20 August, 2019 for oral and poster sessions. Awards will be given to exceptional presentations. In addition, various grants will be available to encourage young doctor researchers to participate in this meeting. 
With beautiful autumn-coloured leaves adorning the trees and a mild comfortable climate, late November is one of the best seasons to visit Japan. The 2020 Tokyo Olympics is also right around the corner in the following year, and Tokyo has never been as lively. APSCI 2019 awaits to take you to the forefront of hearing impairment treatment and prevention. We welcome you with the Japanese hospitality of 'Omotenashi' to you and your distinguished friends.