Event Details
Date:
14 November 2020
- 15 November 2020
---
Location name: Virtual
---
Location address: Turkey
---
---
Report

Prof Fazıl Necdet Ardıç, MD, Dept. of Otolaryngology, Pamukkale University, Denizli, Turkey.
If you asked in which beautiful city we came together for the 12th Practical Approach to Vertigo Symposium, I could say that the congress venue was in every city in the world. Over 1200 colleagues from 69 different countries and 10 different time zones came together on the same symposium platform with the purpose of sharing knowledge. Russia, South Africa, and Turkey were the most represented countries. This marvellous meeting was made a reality with the efforts of the Symposium President, Professor Nuri Ozgirgin, who is the founder of this symposium and has been organising it since 2010. The Practical Approach to Vertigo meetings is a great success story: it started as a local meeting and became an international symposium in a relatively short time for a scientific organisation.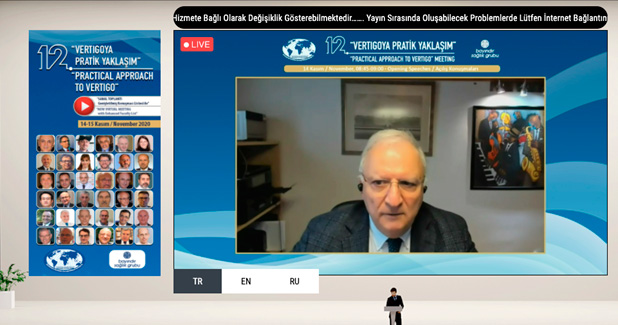 Prof Nuri Özgirgin gave the opening speech.
Although the name is a 'Practical Approach', the expert faculty from 12 different countries shared very high-level academic information with the audience. The standard knowledge and new developments were presented in 13 instructional courses: Motion Sickness (Avi Shupak, Israel); Off-vertical Axis Rotation (Ja-won Koo, South Korea); Vestibular Rehabilitation (Marco Mandala, Italy); Virtual Reality Applications (Franck Assaban, France); The Otolithic System (Levent Naci Özlüoğlu, Turkey); Video Head Impulse Test - vHIT (Kamran Barin, United States); The Power of Vibration (Leonardo Manzari, Italy); Evaluation of Nystagmus (Ahmet Koç, Turkey); Cognitive Disorders in Peripheral Vestibular Disease (Maxim Zamergrad, Russia); Vestibular Screening in Pediatric Patients (Soumit Dasgupta, UK); and DVA and SVV (Fazıl Necdet Ardıç, Turkey).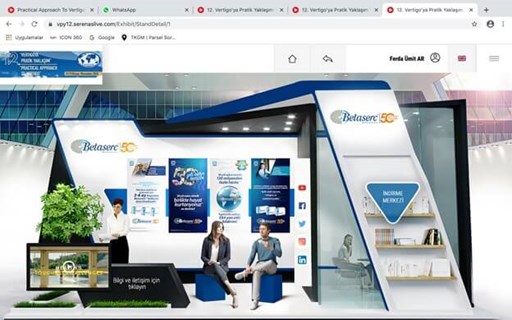 Virtual symposium venue.
There were also four panel discussions and two lecture sessions about classification, diagnosis, and treatment of vestibular disorders. Peripheral and central vestibular disorders were reviewed by different experts, one by one. Surgical and medical treatment alternatives and rehabilitation techniques were also discussed in panel sessions in detail.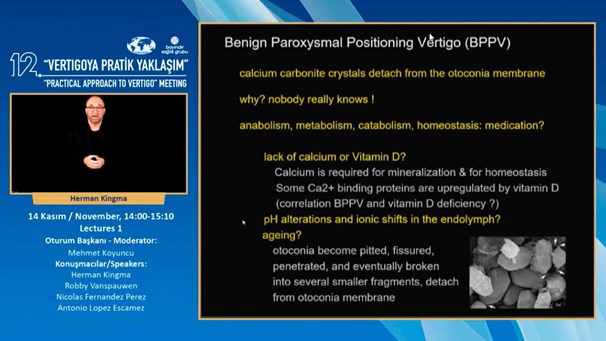 Herman Kingma presented 'BPPV diagnostics and maneuvers'.
After two days of the intense programme, I also noted some take-home messages for my daily practice. Prof Avi Shupak summarised motion sickness and gave clear treatment options for both adult and pediatric patients. Prof Marco Mandala proposed a new approach to vestibular rehabilitation considering the frequency response failures diagnosed by the functional head impulse test. Prof Alexandre Bisdorff presented the efforts of the Barany Society for the classification of vestibular disorders and talked about upcoming diagnostic criteria of vestibular migraine of childhood, superior semicircular canal dehiscence syndrome, and motion sickness. He also mentioned the preparation of a position paper about cervical vertigo. Prof Herman Kingma explained the physiology and physics behind the therapeutic manoeuvres for BPPV and showed the tricks for avoiding failures. Prof Robby Vanspauwen reported a practical way for grading the compensation of the patient depending on clinical examination. Angel Ramos gave good news about the future of vestibular implants. He showed very promising examples from patient trials.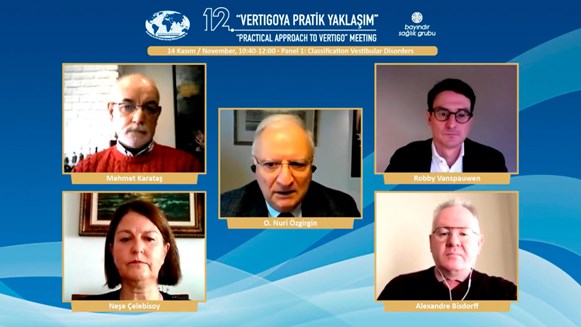 Panel discussion about 'Classification of Vestibular Disorders'.
In every meeting, the social side is always a bonus part of the organisation. But this time, the fancy gala dinner turned into a warm family dinner for every participant in their own home, after a tiresome scientific online marathon.
For further information visit: https://vpy12.serenaslive.com/Home/Index
E: vertigo@serenas.com.tr


Future meeting details: 13th Practical Approach to Vertigo will be held on September 2021 in Çeşme, Turkey.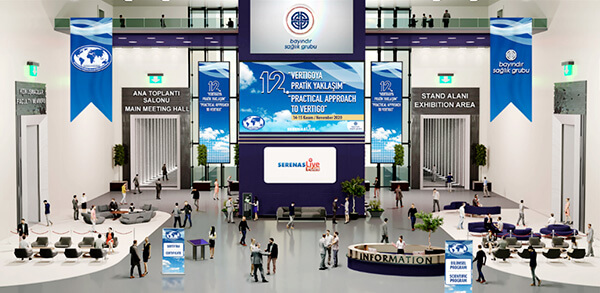 There were also industrial booths in the online symposium.