Event Details
Date:
25 January 2019
- 27 January 2019
---
Location name: Doncaster, UK
---
Location address: Doncaster Royal Infirmary, Thorne Road, Doncaster, DN2 5LT, UK
---
Contact: Prof M Shahed Quraishi
---
---
---
Click to view dynamic map
Report by: Dr Natasha Quraishi, Foundation Year Two Doctor, North West Thames Foundation School, London, UK.

 As sure as day follows night, the last weekend in January can only mean one thing: the latest Annual International ENT Masterclass. This year was no different, as delegates and faculty from all around the globe travelled to Doncaster on Friday 25 January, where they were warmly welcomed to the 15th International ENT Masterclass® by Doncaster Royal Infirmary Chief Executive, Mr Richard Parker, and Course Director, Professor Shahed Quraishi.
The paediatric session began with an informative talk by Mr Michael Kuo on acute airway problems in children and neck lumps. Ms Tawakir Kamani from Nottingham followed and spoke on ENT manifestations in paediatric congenital syndromes. 
Professor Peter Rea started the otology session with a talk on Meniere's disease and migrainous vertigo. Professor Tony Narula gave an inspiring lecture on the progression of tracheostomy care from a local audit to changes on an international scale. Mr Chris Coulson, Professor Dan Jiang, Professor Shak Saeed, Professor Simon Lloyd and Professor Oliver Kaschke of Berlin were part of the otology team, with talks ranging from oto-endoscopic surgery to paediatric brain stem implants. The otology session was brought to a close with a lively panel discussion moderated by Prof Saeed. 
Next, the trainees were treated to a Clinical Grand round conducted by Ms Emma Stapleton and Mr Asad Qayyum. However, the day did not end there! The faculty and delegates were spoilt with a generous Mughal-style course dinner.
The second day of the course was dedicated to rhinology and its allied topics. Profs Kaschke,  Tim Woolford, Anshul Sama,  Claire Hopkins, Mr Shahz Ahmed and Mr Hesham Saleh presented state-of-the-art lectures. Topics ranged from the basic principles of sinus surgery, facial pain, and rhinoplasty to nasal reconstruction. There were five excellent trainee papers presented from the UK and China competing for the gold (Dr Guopeng Wang from Beijing) and silver medals (Mr Ali Al-lami, UK). Another highlight of the day was the launch of the 11th Journal of ENT Masterclass® by Mr Hesham Saleh, Chairman of the editorial board. The journal is now available as an e-journal. A highly-enjoyable rhinology panel, chaired by Mr Hesham Saleh closed the session. Trainees were then treated to further precious clinical grand rounds by Ms Emma Stapleton and Mr Asad Qayyum.
The final day of the Masterclass® heralded head and neck surgery as the topic of the day. Delegates were treated to talks from all over the world. The 2019 Guest Lecturer was Professor Liangfa Liu from Beijing, who spoke on a key topic: the surgical treatment of hypopharyngeal carcinoma and reconstruction of hypopharyngeal and oesophageal defects. Profs Carsten Palme,  Luc Bron, Mr Faruque Riffat, Mr James O'Hara, Mr Ricard Simo, Mr Enyi Ofo and Dr Bernie Foran followed with further excellent talks and a panel discussion. During the day some lucky delegates were also able to win some fantastic textbooks courtesy of ENT & Audiology News, who also sponsored the ENT Masterclass® travelling scholarships for the visiting Chinese trainees. 
Every year, the ENT Masterclass® continues to grow to remain at the forefront of free high-quality training. This year saw the launch of its own ENT Masterclass® YouTube channel, providing live and recorded lectures of the three-day course. The 16th International ENT Masterclass® is a must for trainee diaries: 24-26 January 2020, Doncaster.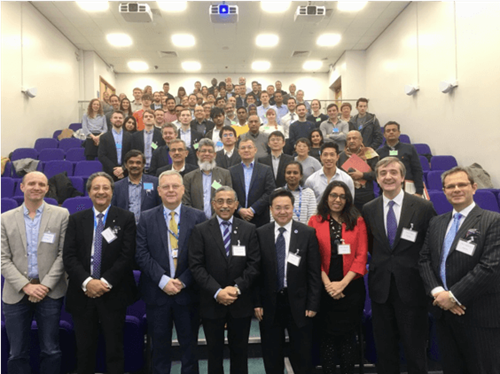 Delegates & Faculty at the 15th International ENT Masterclass.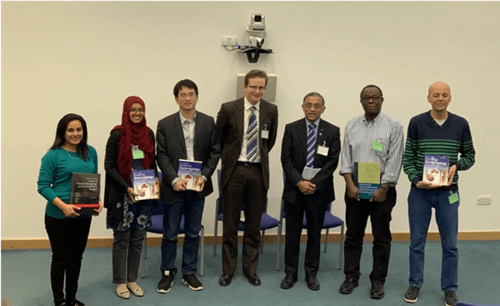 Winners of the ENT & Audiology News free book draw.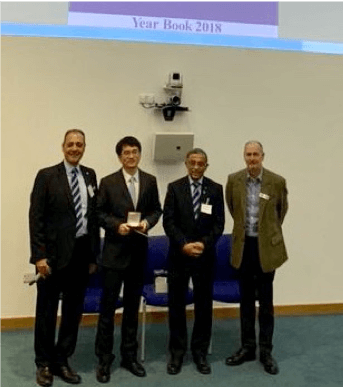 Winner of the ENT Masterclass® Gold Medal for research, Dr Guopeng Wang with
Mr Justin Chater from ENT & Audiology News.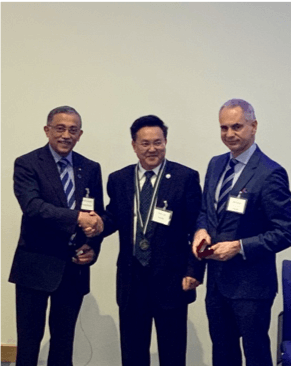 ENT Master Guest Lecturer 2019, Professor Liangfa Liu, (centre) receiving the medal.