Event Details
Date:
10 April 2021
- 11 April 2021
---
Location name: Doncaster, UK
---
Location address: Doncaster Royal Infirmary
Armthorpe Road
Doncaster
DN2 5LT
UK
---
Contact: Prof Shahed Quraishi
---
---
---
As the COVID-19 pandemic continues to affect our lives in different ways, it has led to innovative changes in education and training. ENT Masterclass® held the first 3D-printed 'cadaver head' dissection course in the UK, an amazing experience for delegates and faculty alike. This two-day course consisted of rhinology/facial plastics on day one, with Prof Anshul Sama leading an eminent faculty of Shaz Ahmed, Ullas Raghavan, Asad Qayyum and Aman Khanna. As it was a face-to-face event, strict COVID hygiene rules were implemented. There were 12 fully-equipped work stations (microscopes, drills, endoscopes middle ear prosthesis etc). Each delegate had a 'head' to themselves with surgical equipment to undertake septorhinoplasty and complex endoscopic sinus and middle ear surgery.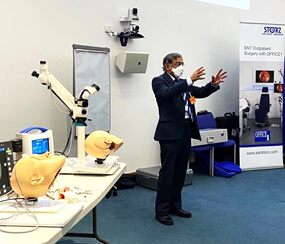 Prof Shahed Quraishi, welcomes delegates to the first 3D-printed 'cadaver head' dissection course in the UK.
The faculty-to-delegate ratio was 1:2 which greatly helped in navigating the trainees through various surgical modules. Day two was otology and the faculty team was led by Emma Stapleton along with Glen Watson, Jay Dugar, Mansoor Sharifi and Asad Qayyum. The delegates were trainees from ST1-ST6, and otological procedures, from myringoplasty and stapedotomy to mastoidectomy, were performed on 'in situ' temporal bones. It was as close as you could get to the real thing, without blood! Most trainees also managed to skeletonise the facial nerve. The trainees were grateful to Medtronic, Storz and DP Medical who supported ENT Masterclass® in keeping this course free: otherwise, it would have cost over £3500 per delegate for the consumables used. A great opportunity to get some 'hands-on' training with dwindling elective surgery and scarce dissection courses during the pandemic. At the end of the two-day event, Prof Quraishi, Director of ENT Masterclass®, thanked the faculty and sponsors and announced that the next free dissection course would be held in December 2021 for ST3-ST8 trainees.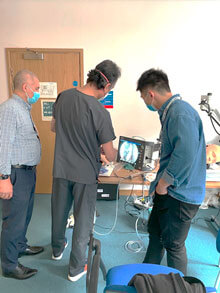 Prof Anshul Sama demonstrating the surgical access to the frontal sinus.
Report by Fazliddin Muradov, Lewisham Hospital, London, UK.