Event Details
Date:
19 April 2019
- 21 April 2019
---
Location name: Cape Town, South Africa
---
Location address: Groote Schuur Hospital, Main Rd, Observatory, Cape Town, 7925, South Africa
---
Contact: Prof M Shahed Quraishi, OBE, FRCS, Director ENT Masterclass®
---
---
---
Click to view dynamic map
Report by: Nicholas Goncalves, Registrar Otolaryngology, University of Cape Town, South Africa.
South Africa was fortunate to host a 2nd ENT Masterclass® as a flagship for the continent of Africa. The first African ENT Masterclass® was held in Cape Town in 2017. Since then, news of the Masterclass has spread throughout the country and the continent. There was great excitement and enthusiasm amongst the trainees who have been anticipating the event.
The Masterclass was once again hosted at the historic Groote Schuur Hospital, University of Cape Town, where the first human heart transplant was performed by Christiaan Barnard in 1967. I had the pleasure of taking Professor Shahed Quraishi and Dr Asad Qayyum on a private tour of the Heart of Cape Town museum.
A total of 80 delegates, including faculty attended the Masterclass. What was most impressive, was the attendance received from other African countries. A total of nine African countries were represented, namely Ghana, Ethiopia, Nigeria, Democratic Republic of Congo, Zimbabwe, Somalia, Namibia, Libya and South Africa.
The Masterclass was supported by an expert local and international faculty. The three-day event was focused on giving practical lectures covering a range of topics including otology, paediatric ENT, head and neck oncology and rhinology. The International faculty from the UK was boosted by local South African faculty, including Professor Johan Fagan, Professor Darlene Lubbe, Shazia Peer, Tashneem Harris, Julie Wetter, Silva Kuschke, Christine Rogers, Professor James Loock, Kafui Seayroh and Samira Dalvie.
The majority of the delegates were registrars (81%). The Masterclass received positive reviews with an overall satisfaction score of the meeting at 96.5%. Panel discussions were voted the most popular items on the programme.
The Faculty dinner was kindly hosted by the local co-ordinator and Head of Department of Otolaryngology at University of Cape Town, Prof Johan Fagan, at his private home and proved to be a great success. Members of faculty had the opportunity to relax, reconnect and exchange ideas. This is surely the way to build lasting working relationships and friendships.
As Africans, we are often faced with socio-economic challenges and limited resources. As a result, doctors serving communities on the African continent are encouraged to nurture an innovative inclination in order to deliver the best possible healthcare for their patients. Therefore, we greatly identify and align with the spirit and ethos of the Masterclass and we share the philosophy of promoting platforms for free education and training resources. Prof Johan Fagan's open access textbook of otolaryngology and training fellowships are a testament to this spirit.
On behalf of the South African Society of Otorhinolaryngology and the department of otolaryngology, University of Cape Town, I would like to thank the ENT Masterclass® team for a fantastic meeting. Your hard work and dedication have been an inspiration. We hope to continue the adventure of ENT Masterclass Africa® in the future.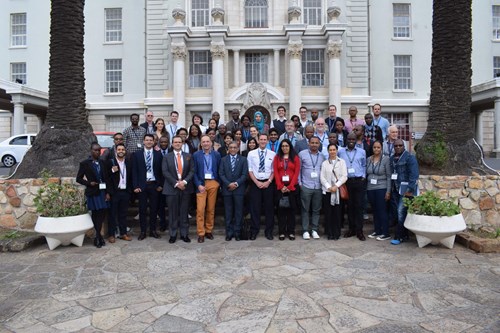 Faculty and delegates at the 2nd ENT Masterclass Africa®, Groote Schuur Hospital, Cape Town.