Event Details
Date:
28 May 2019
- 1 June 2019
---
Location name: Warsaw, Poland
---
Location address: Hilton Warsaw Hotel & Convention Centre, Grzybowska 63, 00-844 Warsaw
---
---
---
Click to view dynamic map
 Report by: Aaron Trinidade FRCS (ORL-HNS), ENT Surgeon, Southend University Hospital NHS Foundation Trust.
This year's much anticipated Politzer Society Meeting was held partly at the Hilton Hotel and Convention Centre in Poland's fantastic capital of Warsaw, and at the World Hearing Centre in Park Ketjany on the outskirts of the city. The meeting is one of the biggest highlights on the calendar of otologists and neurotologists from around the world, and this year's meeting, hosted by Professor Henryk Skarżyński and his son, Piotr, did not disappoint. The scientific agenda was strong and varied, industry was well-represented, and the catering was impeccable.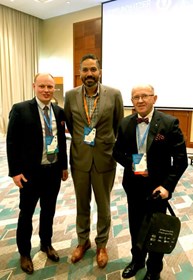 (L-R) Piotr Skarżyński, Aaron Trinidade and Prof Henryk Skarżyński.
There was a strong international representation with respect to keynote and invited lecturers, including Professor Marcus Atlas who spoke about the bioengineered tympanic membrane, Professor Daniel Kaplan speaking of his experience with a large cohort of patients with necrotising otitis externa, and Professor Chun Fu Dai presenting his extensive experience with malignancies of the temporal bone. Highlights included Professor Liebermann's fascinating lecture on the current understanding of the biology of sensorineural hearing loss, including the latest concepts surrounding synaptopathy, and Professor Bradley Welling's updates on the latest innovations in tinnitus treatment, including a host of promising inner ear therapies that are expected to enter clinical trials in the coming years.
There was a host of round table discussions and attendees were treated to a wide spectrum of opinions and lively debates from engaging panellists, including the latest developments in imaging in Meniere's disease, trends in the staging and management of cholesteatoma and challenges in cochlear implantation. Live surgery demonstrations and temporal bone dissections were also on offer and took place at the World Hearing Centre.
Entertainment was prominent on the agenda and the Skarżyńskis were gracious and generous hosts. One highlight included a lavish barbeque at the grounds of the World Hearing Centre, which even features its own zoo! Guests were treated to theatrical cocktails, groaning tables of food and a magnificent fireworks display. The evening ended on the dancefloor, with locals showing the international faculty how to party Polish-style.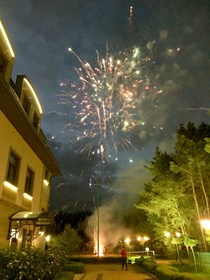 Fireworks on the grounds of the World Hearing Centre in Park Ketjany.
Overall, this was one of the more enjoyable Politzer Society Meetings, both from a scientific and entertainment point of view, and Warsaw, with its ultramodern skyscrapers, beautifully restored old town and rash of high-end but affordable restaurants, provided the perfect backdrop.