Event Details
Date:
25 June 2022
- 27 June 2022
---
Location name: Orlando, USA
---
Location address: Hotel Caribe Royale All-Suite Hotel & Convention Center,
8101 World Center Drive,
Orlando FL 32821,
USA
---
Contact: Dr Héctor Ruiz
---
---
---


Hector E. Ruiz, M.D., President of the Pan American Association of Otorhinolaryngology H.N.S
It is a great pleasure and honour as President of the Pan American Association of E.N.T. at being able to meet everyone again in person and with the great joy that the AAO-HNSF organise it with the Presidency of Dr. Pablo Stolovitzky, international coordinator of the AAO-HNS and thus welcome you to this XXXVII Pan American Congress of Otorhinolaryngology. The Congress will take place at the wonderful Hotel Caribe Royale in the city of Orlando, USA.
We have chosen Orlando because it is a multicultural city that easily links many countries with non-stop flights from all over the world. It's one of the top meeting and event destinations in the USA, offering endless entertainment options for individuals and families. So, in addition to world-class scientific programming, the 2022 Pan American Congress offers you a rich and unique cultural experience to renew old friendships and create new ones with leading experts in the field.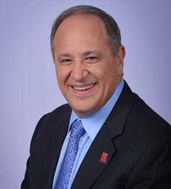 (Image of Dr. Pablo Stolovitzky)
My deep appreciation to the Congress Scientific Program Committee, the leadership and staff of the AAO-HNSF, and the Executive Committee of the Pan American Association for their invaluable contributions to the success of this world-class event.
Details about the Congress and more information on hotels and tourism opportunities can be found on the Congress website www.panamorl2022.org. Write to us for the Call for Science, make your hotel reservation and register to obtain more information and implement the academic program, specialty within the ENT and events. Registration has been open for a long time and always on the web.
You can also receive information via the Bulletin of the Pan-American, a magazine that for 16 years has reported on the activity of the Association.
The Association, which has been in existence for 76 years, has implemented intense activity with regular meetings, courses and virtual meetings with I.F.O.S, the A.A.O.H.N.S. and the International Coordination in addition to the Pan American Committee, also with W.H.O. with the World Hearing Forum, the Commission of Young Pan American Otorhinolaryngologists (J.O.P.)
I hope this Congress brings the great Pan American family and science together again and I believe it will be an unforgettable experience in a place where fantasy is strengthened, Orlando.