Event Details
Date: 18 September 2020
---
Location name: WEBINAR
---
Contact: Jaiganesh Manickavasagam
---
Tel: +44 (0)7983364439
---
---
---
Report
Date: 18 September 2020
Venue: Dundee Institute of Head and Neck Education on the
Report by: Pavithran Maniam, Academic Foundation Doctor, NHS Lothian, UK.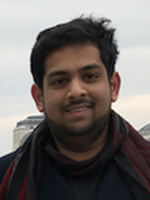 The 2020 Scottish Head and Neck Virtual Conference was one of the largest virtual conferences, focusing on head and neck surgery complications and management. The virtual platform provided an excellent learning experience for all delegates. This was also the third Scottish Head and Neck conference held, following positive feedback from previous events.
Mr Jai Manick successfully arranged the meeting virtually by involving various renowned national and international faculty members in the field of head and neck disease. The meeting was a multidisciplinary conference involving head and neck surgeons, oral and maxillofacial surgeons, oncologists and radiologists, and was attended by 650 delegates from 83 different countries.
The session began with an excellent keynote lecture by Prof M Vanden Brekel from the Netherlands, who provided an outstanding overview of common complications encountered in head and neck surgery. Thereafter, the sessions concentrated on complications related to parotid, oral cavity, larynx and thyroid surgeries, with contributions from Professor Prathamesh Pai, Mr Ian Nixon, Mr Faruque Riffat, Profs Vinidh Paleri, Shahed Quraishi, and Kim Ah-See, and several other leading oncologists and radiologists  from Dundee, Edinburgh and Glasgow. In addition to that, Dr Emma King provided an excellent overview on the impact of COVID on head and neck surgery. Mr Haytham Kubba, on the other hand, provided an update on the common complications encountered in paediatric ENT surgery.
The conference also had multiple panel discussions on various topics, such as immunotherapy, tracheostomy and microvascular surgery in head and neck surgery. These discussions were presented in a lively manner by the faculty members with the audience actively participating through online chats. Interactive polls were also utilised to involve delegates in the sessions more. The programme was fast-paced but the faculty members ensured that the key message of each discussion was conveyed clearly to the audience. Representative breakout rooms were also organised to minimise virtual fatigue.
Overall, the conference was a big success and Mr Manick and his team look forward to organising more similar events in the future. I would strongly recommend future events to all trainees and consultants interested in the field of head and neck surgery. I am certainly planning to attend the next one!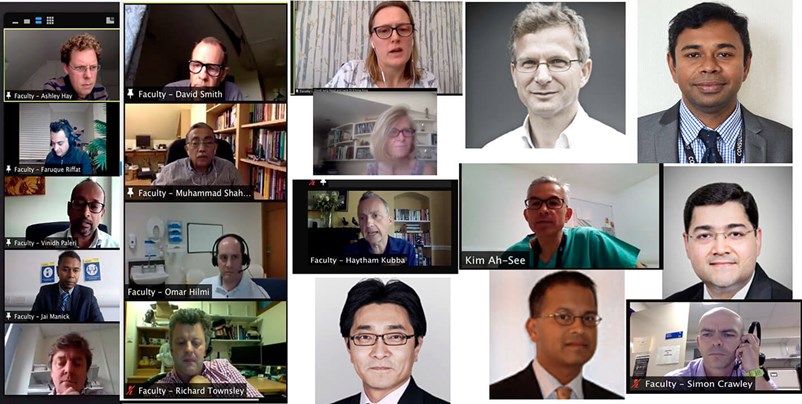 Challenges of virtual conferences
Virtual mediums attract a lot of international audiences. Digital meetings are attractive for forward-thinking learners. It is relatively cost-effective and
and environmentally friendly. However, it subtracts social interaction and promotes fatigue. To overcome this problem, audience engagement in the form of polls and chats is crucial. Technical help and faculty trial sessions are essential. Too many webinars are being conducted hence sustaining bonding was challenging. Automatic registration, feedback collection and certification minimised admin work significantly. A virtual conference needs good structure, and cohesive management is crucial to streamline the event.
Having access to the best equipment and choosing the correct platform was another demanding task. It can be difficult to organise virtual reps' breakout rooms, which was solved by pre-recorded videos from sponsors. Adequate breaks and time management are key to minimise virtual fatigue. Security was one of the biggest fears in the online meeting. Many attendees preferred meeting recordings to watch later due to time difference.
I believe, structured, well-planned virtual meetings will gradually replace large face-to-face meetings.

Jai Manick, Organising Chair.
Preview

Based on the exceptionally positive feedback from the last year's inaugural event, we are pleased to announce that we will be hosting another Head and Neck meeting this year in conjunction with the university of Dundee. This unique conference will take place via virtual portal ZOOM this September and will focus on the evidence based management of head and neck surgery complications within a multidisciplinary team approach. It will be the first conference to be based on the principles of an 'enquiry-led teaching method' with pre-determined learning objectives.

This event will include didactic lectures, but the majority of the conference will be dedicated to case based panel discussions, creating a unique open forum learning opportunity. It will allow delegates to actively participate in asking questions about the cases and engage in deliberating potential solutions with the panel, consisting of world leading experts in the field. Key note lectures will be delivered by internationally renowned faculty from multiple specialities.

Though the conference will be aimed at a broad audience from trainees in the relevant specialities through to consultants in ENT, Maxillofacial and Plastics; we would also encourage attendance from members of the extended multidisciplinary team for Head and Neck pathology.
Organising Chair
Mr Jai

Manickavasagam

, Head andNeck Lead, Ninewells, University of Dundee
Scientific Advisory Committee
Mr Iain Nixon
Prof Kim Ah-See
Prof Vinidh Paleri

Faculty
Prof Dr M.W.M. van den Brekel, Dept. Head and Neck Surgery and Oncology. Netherlands Cancer Institute, Amsterdam
Prof. Prathamesh S. Pai, Head & Neck Surgical Oncology Tata Memorial Centre, Mumbai, India
Prof Vinidh Paleri, Head and Neck Surgeon, London, UK
Mr Kishore Shekar, Head and Neck, Max fac, Dundee, UK
Mr Jai Manickavasagam, Head and Neck Surgeon, Dundee, UK
Mr Iain Nixon, Head and Neck Surgeon, Edinburgh, UK
Prof Kim Ah-See, Head and Neck Surgeon, Aberdeen, UK
Mr Haytham Kubba, Paediatric ENT consultant, Glasgow, UK
Mr Omar Hilmi, ENT Consultant, Glasgow, UK
Prof David Smith, Endocrine Surgeon, Dundee, UK
Prof Shahed Quraishi, Thyroid and parathyroid Surgeon, Doncaster, UK
Mr Mani Ragbir, Plastic surgeon, Freeman Hospital, Newcastle, UK
Prof Dae Kim, Consultant ENT and Thyroid Surgeon, St George's Hospital, London, UK
Dr Richard Casasola, Oncologist, Ninewells, Dundee, UK
Dr Joanna Mackenzie, Consultant Clinical Oncologist, Edinburgh Cancer Centre, UK
Mr Sam Majumdar, Laryngologist, Dundee, UK
Mr Andrew S. Evans, Head and Neck Surgeon, Edinburgh, UK
Prof Farrukh Riffat, Head and Neck Surgeon, Australia
Mr Richard Townsley, Head and neck surgeon, Glasgow, UK
Dr Anu Kamalasanan, Radiologist, Glasgow, UK
Dr Thiru Sudarshan, Radiologist, Dundee, UK
Dr Simon Crawley, Anesthetist, Dundee, UK
Please Note
Please be aware that the delegation quota is strictly limited to 1000 places.
Attendance for the meeting is free to all. However, ZOOM registration is must, prior to the meeting. On the day registration will not be accepted. International participants are expected in large numbers. Hence earlier registration is advisable.
To apply please visit www.headandneckconference.co.uk.
This is non-profit event.