Event Details
Date:
13 June 2019
- 15 June 2019
---
Location name: Boston, USA
---
Location address: Boston Renaissance Waterfront Hotel, 606 Congress St, Boston, MA 02210, USA
---
Tel: +1 519 263 5050
---
---
---
---
Click to view dynamic map
Arun Iyer, Consultant ENT Specialist, Monklands Hospital, Lanarkshire, UK.
This event was attended by nearly 500 delegates from all around the world. The opening ceremony started off with a tribute to the late David Pothier, President of the International Working Group (IWGEES). The first keynote lecture was by Dr David Kennedy, a legendary rhinologist and pioneer in FESS on 'Disruptive Technology- how endoscopes transformed Rhinology' drawing parallels to current situation in otology. This was followed by discussion on challenges to introducing new technology in otolaryngology and panellists included Dr John House, Professor Jean Mac Thomassin, Dr Dennis Poe, Dr David Kennedy and Dr Muaaz Tharabichi. The first day was mainly dedicated to challenges in middle ear surgery.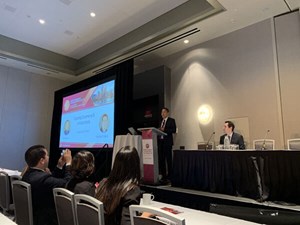 Opening Ceremony of the conference.
The second day focused on important topics such as outcomes in TEES, paediatric perspectives and the use of new technology such as exoscopes, 3D endoscopes, and augmented reality. The other challenging topics discussed were endoscopic stapes surgery, use of scopes in cochlear implantation, impact of training and innovations on instrumentation. The final day was dedicated to new frontiers in otology such as eustachian tube dilation, use of radiology to detect cholesteatoma, endoscope and robot assisted lateral skull base surgery, advances on powered instrumentation, and how to standardise and monitor outcomes.
The pre-congress dissection course and live surgery at the Massachusetts Eye and Ear Infirmary was well-attended and had great feedback. The black-tie gala dinner gave an ideal opportunity to network and unwind while enjoying the wonderful live music, wine and food. As we bid farewell to this wonderful event, Professor Kakehata promised even more technological marvels amidst beautiful cherry blossom in Kyoto, Japan, in April 2021.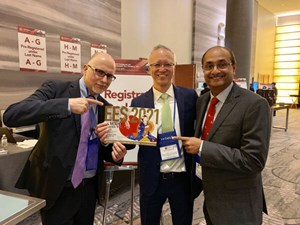 Looking forward to the 2021 conference in Japan!
Jennifer Siu, resident from Toronto, Canada.
The 3rd World Congress Endoscopic Ear Surgery was an incredible educational and networking opportunity for trainees of all levels from across the world.  There were many trainees delivering poster and podium presentations, as well as speaking on panels with international experts. Additionally, there were specific sessions highly relevant to trainees and those just starting their practice, and networking events geared towards trainees.
The theme of technology and innovation was present throughout the conference. Participants heard from world-renowned experts on topics such as smartphone otoendoscopy, and advances in lasers and powered instrumentation for TEES.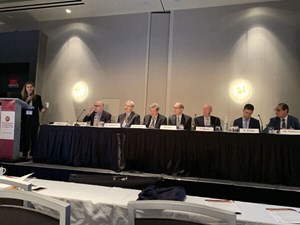 Expert panel at the 3rd World Endoscopic Ear Surgery.
The congress ended with the black tie gala at the historic Moakley Courthouse and a tribute to David Pothier, a brilliant and innovative leader in the field of endoscopic ear surgery. He was a phenomenal mentor and role model for many residents and fellows in Toronto and around the world.