Event Details
Date: 17 September 2021
---
Time: 08:30
---
Location name: VIRTUAL
---
Contact: Mr Jaiganesh Manickavasagam
---
---
The 4th Scottish International Head and Neck Conference, hosted by the Dundee Institute for Head and Neck Education (DIHNE), attracted over 1400 delegates from 92 countries in another exclusively virtual event.
Fully accredited by ENT UK and the Royal College of Surgeons of Edinburgh, the annual conference has gone from strength to strength, cementing its reputation for excellence in head and neck education across the globe.
Drawing on expertise from a faculty of 36 international speakers across 25 institutions, the conference provided an update on the management of head and neck emergencies through lectures and case-based panel discussions. Highlights included keynote lectures on laryngotracheal trauma by Kishore Sandu (Switzerland) and emergencies in paediatric head and neck surgery by Matthew Ellis (Royal Hospital for Children, Glasgow). Prof Johan Fagan from South Africa shared his extensive experience of laryngeal emergencies. The panel discussions were enriched by contributions from experts in anaesthetics, radiology, maxillofacial and vascular surgery, who provided invaluable updates for multidisciplinary working in the face of complex emergencies such as penetrating neck trauma, airway obstruction and carotid blowout. Panelists included Prof Michael van den Brekel, Prof Cesare Piazza, Mr Ian Nixon, Miss Ekpemi Irune, Prof Vinidh Paleri, Miss Somiah Siddiq and Prof Shahed Quraishi, amongst many other esteemed clinicians.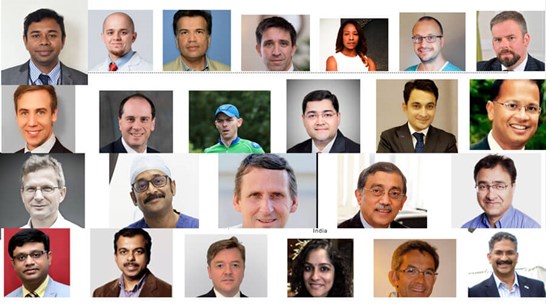 As an ENT trainee, I found the panel discussions particularly useful – debates around management demonstrated current global consensus, but also highlighted areas of contention, such as early surgery versus antibiotics for paediatric deep neck space abscesses.
Throughout the day, delegates had their questions answered by the faculty in real-time, via an online text chat. This created a nice flow between sessions and kept the schedule running to time, thus maximising learning opportunities from a busy programme.
The conference received 98% positive feedback for organisation and objectives, with lectures receiving more than 97% positive feedback overall.
The virtual format adopted for the 3rd and 4th Scottish International Head and Neck Conference has been very well received by the international ENT community. Going forward, Mr Manickavasagam hopes to run future events in a hybrid format, thus continuing to provide free and accessible head and neck education to a worldwide audience.
Scroll down to view a recording of the live stream from the meeting.

Report by Ross Bannon ENT ST5, Ninewells Hospital, Dundee, UK.
4th Scottish International Head and Neck Conference: Emergencies in Head and Neck