Event Details
Date:
26 April 2019
- 28 April 2019
---
Location name: Little Rock, USA
---
Location address: Yasargil Surgical Skills Laboratory & Education Centre, University of Arkansas for Medical Sciences, 4301 W Markham St, Little Rock, AR 72205, USA
---
---
Click to view dynamic map
 Report by: Eveline Tasca Rodrigues, MD Niterói, Rio de Janeiro, Brazil
The 4th International Annual Otology Fellows Congress and Advanced Course in Otology and Skull Base Surgery filled so many blank spaces in my career that I feel honoured to report it, and to encourage the next generation of otology fellows to attend this event in future. Beyond my expectations, it was not only an experience in advanced otology and skull base surgery, but also an opportunity to meet experts and trainees from 11 countries.
Directed by Dr John Dornhoffer, Michael Gluth, J Walter Kutz and Brandon Isaacson, the course also had a remarkable guest faculty. Reminding us that "you are sitting in this chair for a reason," Gluth opened the course, welcoming fellows and presenting the faculty, organisers and sponsors.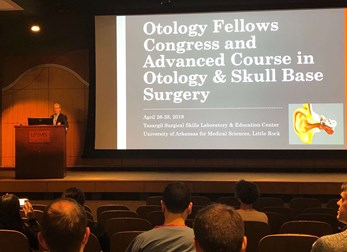 Course Director, Dr John Dornhoffer, introducing the event.
The event included lectures on diverse advanced subjects. Isaacson clarified many crucial points on advanced middle ear anatomy, Peter Santa Maria presented his research and future goals on tympanic membrane regenerative therapy, and Dr Dornhoffer spoke on his highly effective tympanoplasty and ossicular reconstruction techniques. Discussions about advanced approaches on middle cranial fossa, petrous apex, translabyrinthine, retrosigmoid, complex cochlear implants, and middle temporal artery graft were guided by Kutz, Meredith Adams, Jacob Hunter, Stephanie Moody-Antonio and Gluth respectively.
Howard Francis presented his studies about mastoidectomy learning curve and managing tympanic membrane secondary cholesteatoma. Chunfu Dai, Professor Director of Otology and Skull Base Eye, Ear, Nose, and Throat Hospital at Fudan University in Shanghai, presented several of his skull base cases, especially focused on jugular foramen exploration. He has one of the biggest series of skull base cases published in the world. During breaks, faculty members presented and discussed several of their difficult cases.
"I love technology, art, music. How fortunate I am that I found a way to combine all of these things into a job!"


Stephanie Moody-Antonio, MD, course faculty member
For me, a highlight was Dr Dornhoffer's lecture about his own experience as a cochlear implant recipient. The opportunity to hear his unique discoveries and thoughts was priceless! With no need for slides, his words kept total attention of fellows, consultants, and experts themselves.
The cadaver dissections took place at the UAMS Yasargil Surgical Skills Laboratory and Education Centre, an outstanding complex of three very well-equipped laboratories. All 24 fellows were guided by faculty to perform these extensive dissections: infratemporal fossa, extended middle cranial fossa, translabyrinthine, jugular foramen, retrosigmoid, and retrolabyrinthine approaches; middle ear advanced endoscopic surgery and complex cochlear implant approaches using diverse devices.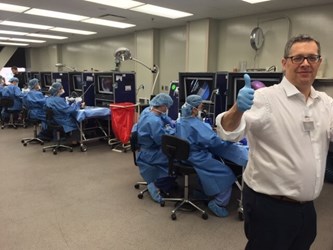 Brandon Isaacson in the Endoscopic Ear Surgery Laboratory, Yasargil Surgical Skills Centre, Little Rock.
One of the main (and ambitious) goals of the event is to bring together a wide variety of professionals, approaches, experiences, and knowledge. Social activities played an important role in this aim, and the aim was made possible by the course having no registration fee, with meals and lodging also being generously provided.
This course provided an impressive amount of knowledge, which I'm looking forward to using during my otology practice in Brazil. So many questions remain unclear, but this is not a problem, because despite being diverse, we otologists are the same bright and brave people, excited to keep pursuing answers!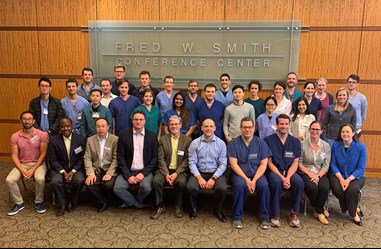 Faculty and delegates at the 4th International Otology Fellows Congress and Advanced Ear and Skull Base Surgery Course.

Course Contact Information
Jamie Conte
Director of Logistics
jconte@cmeoutfitters.com