Event Details
Date:
20 June 2019
- 21 June 2019
---
Location name: Torquay, UK
---
Location address: Horizon Centre, Lowes Bridge, Torquay TQ2 7AA
---
---
---
Click to view dynamic map
 Report by: Mr Kannan Ramachandran, Glangwili General Hospital, Hywel Dda University Health Board, Carmarthen, Wales, UK  
Sunny Devon was the venue of the 5th ENT UK SAS Conference on 20-21 June, at The Horizon Centre, Torbay Hospital. This was a pleasant break away from the bustling cities and with outstanding facilities.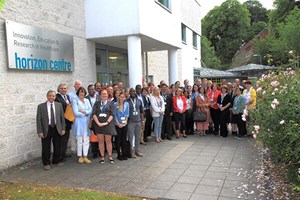 Faculty and delegates at the 5th ENT UK SAS Conference at Horizon Centre, Torbay Hospital
After a sumptuous lunch, engaging workshops were the order of the day on Thursday afternoon; job planning by the British Medical Association, pensions and investments by Chase de Vere, and qualitative dimensions of ENT nursing and career progression by Dean Frawley set the tone. These were followed by workshops on balance, speech and language therapy, and hands-on workshops on bone-anchored hearing aids (BAHA) and 'can't intubate can't oxygenate (CICO)', the latter being a collaborative session by the local anaesthetic and ENT team. The attention to detail was astounding.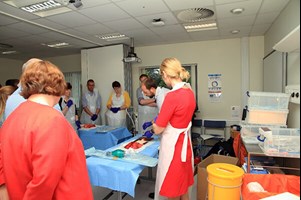 CICO Workshop.
The course dinner, at Riverford Field Kitchen, was a delightfully organic one. A gentle stroll through its beautiful vegetable gardens, assisted by a flute of bubbly, surrounded by the undulating Devon countryside. The group were then taken to Haytor, an iconic rock formation in Dartmoor, where we were fortunate with the weather and got a glimpse of the sunset and the stunning views.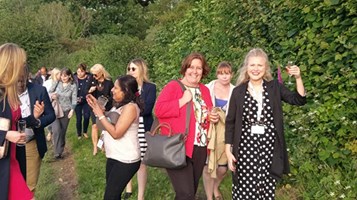 A stroll through the all organic vegetable gardens.
Plenary sessions were the order of the following day, which commenced with an engaging talk by Philippa Tostevin, ENT UK Education & Training Committee Chair. A distinguished faculty followed on, covering appraisal and revalidation, otology, palliative care, and head and neck surgery. The guest of honour lecture, given by Professor Colm O'Mahony, had the packed auditorium in stitches! Best oral presentation was won by Alisha Patel, entitled 'Review of litigation trends in Otolaryngology', and best poster going to Stephen Park with Improving ward rounds through documentation.
As all good things come an end, the meeting concluded with the ENT UK SAS chair thanking and bidding farewell to all for their help and support.