Event Details
Date:
1 September 2021
- 2 September 2021
---
Location name: Perth, Australia
---
Location address: VIRTUAL EVENT
---
---
---
OMOZ, or Otitis Media Australia, was held as an entirely virtual conference with all presenters not physically in the room, though a 'watch party' to allow local delegates to come together, yarn and watch the conference on the big screen was held in a local health facility. OMOZ was established in order to have collaborative meetings of clinicians and researchers in the otitis media field every two years.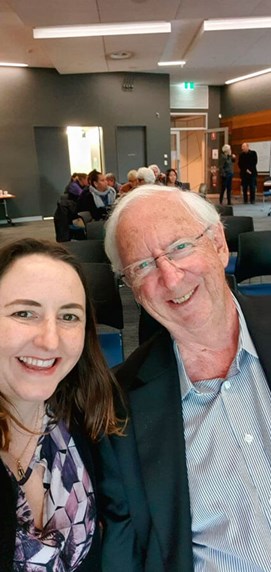 Researcher and delegate, Dr Ruth Thornton, and Harvey Coates at the OMOZ conference watch party.
The key take-home message from this meeting in Aboriginal Ear Health was that Aboriginal people need to be involved in every aspect, from service delivery through to research. In particular, cultural brokers assist families with complex ear and hearing service pathways, as well as their role in prevention of otitis media and facilitating cultural safety in research. Another point in First Nations ear health was for every child's ears to be examined at every opportunity.
Highlights of the conference included panels on community consultation and co-creation of research projects, where Professor Kelvin Kong strongly advocated for increasing the number of Aboriginal health professionals in Australia. The conference dinner was a tribute to retiring ear health researcher, Professor Deborah Lehmann AO, who regaled the audience with her journey from researching pneumococcal disease in Nepal and Papua New Guinea through to her conducting the Kalgoorlie Otitis Media Project and the famous swimming pool project.
The next OMOZ meeting will be in Newcastle 2024 with Professor Kelvin Kong as organiser.
Report by Harvey Coates, Paediatric Otolaryngologist; Clinical Professor, University of Western Australia; Honorary Distinguished Research Associate, Telethon Kids Institute, Nedlands, Australia.