Event Details
Date:
13 October 2022
- 15 October 2022
---
Location name: Las Palmas de Gran Canaria, Spain
---
Location address: Palacio Congresos de Canarias, Ctra. del Rincón, 35010 Las Palmas de Gran Canaria, Las Palmas, Spain
---
Contact: Technical Secretariat
---
Tel: +34 915 759 393
---
---
---
Report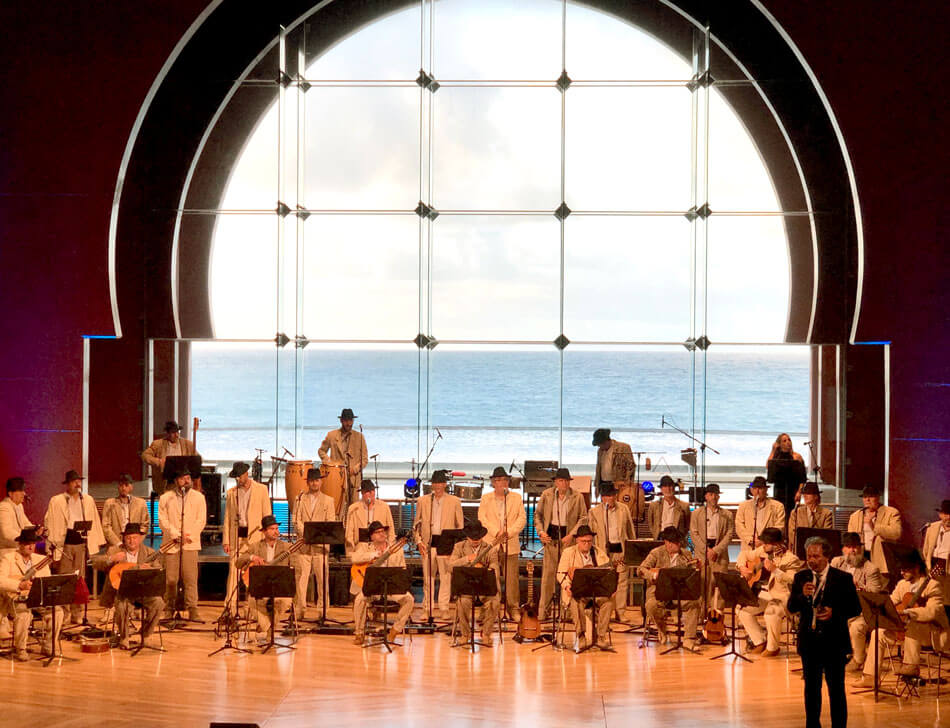 Jesus Benitez welcomes delegates to the congress with Los Gofiones, one of the most popular bands in Canary Islands.
The Spanish Society of Otorhinolaryngology and Head and Neck Surgery (SEORL-CCC) brought together Spanish otorhinolaryngologists again after two years of virtual congress due to the COVID-19 pandemic.
Under the chairmanship of Professor Manuel Bernal, the event attracted more than 1,500 otorhinolaryngologists, enjoying keynote speeches, plenary sessions, panel discussions, video and poster sessions, symposia and oral presentations. They exchanged experiences in the fields of otology, audiology, neurotology, rhinology, head and neck surgery, facial plastic surgery, laryngology, obstructive sleep apnea and pediatric otorhinolaryngology.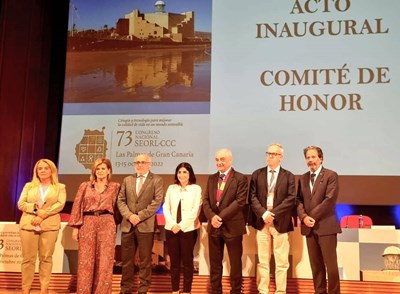 During the meeting, doctors Ricard Simo, Adolfo Bronstein and Shakeel R Saeed were recognised as honorary members of the SEORL-CCC. They received a plaque from Prof Bernal and Isabel García López, President and Secretary General of the SEORL-CCC, respectively.
Attendees were able to enjoy talks by international guests. Adolfo Bronstein, Professor of Clinical Neuro-Otology at Imperial College London, gave a keynote address on oscillopsia, visual certigo and PPPD. Ricard Simo, Consultant Otorhinolaryngologist Head, Neck and Thyroid Surgeon at Guy's and St Thomas' Hospital in London, focused on the treatment of intrathoracic goiter. Shakeel Saeed, Professor of Otology and Neuro-Otology at University College London, gave a presentation on superior semi-circular canal dehiscence (SSCD).
The next SEORL-CCC meeting is planned for 4-7 October 2023 in Madrid.
Alfonso Santamaría Gadea, MD PhD, Departamento de Otorrinolaringología, Hospital Universitario Ramón y Cajal, Spain.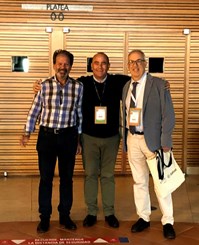 From the hearing-care professional perspective, the 73rd Conference of the SSORL HNS offered many audiology presentations, with different and interesting topics such as the following:
Audiology for PhD doctors
Interpretation and realisation of brainstem hearing aid
Innovative indications in audiology and implantable systems
Discovering hidden hearing loss
Disruption from the central hearing process
Genetic hearing loss diagnosis
Enfant hearing loss diagnosis
Estimation of cochlear understanding within monitoring feedback
The perfect organisation of the conference with its highly interesting subjects and large attendance made it one of the most successful in history. Jesus Benitez and Angel Ramos, Presidents of the Organising Committee, and Manuel Bernal, President of the Spanish Society, were effusively congratulated for a magnificent event.
Fernando Gonzalez-Ripoll, Audyo Founder.
Picture: Fernando Gonzalez-Ripoll with Jesus Benitez and Angel Ramos.