Event Details
Date:
10 October 2021
- 12 October 2021
---
Location name: Dubai, United Arab Emirates
---
Contact: Mrs Joy Ogunneye, Index Conferences & Exhibitions
---
Tel: +971 45208985 / +971 529842378
---
---
---
The 9th edition of the Dubai Otology, Neurotology and Skull Base Surgery Conference & Exhibition will take place 10-12 October 2021 in Dubai, UAE, as a physical in-person event.

A flagship event of the UAE Ministry of Health, Dubai Otology is the only specialised otology, neurotology and skull base event in the Middle East. The conference includes over 60 scientific sessions and lectures delivered by experienced and well-known professionals in the field of otology. It also features a pre-conference Surgical Cadaveric Workshop that covers Functional Endoscopic Sinus Surgery (FESS), Rhinoplasty and Basic & Advance Temporal Bone Course.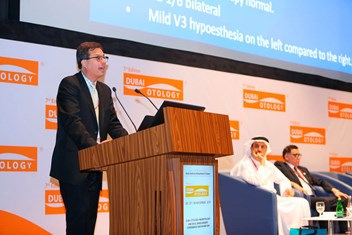 The highly-specialised conference exclusively focuses on the most critical ear, head and neck diseases and disorders, and allows attendees to explore the latest medical research, treatment advances and technologies in the field of otology, as well as give them a chance to earn CME credit points.
In parallel, the platform gives companies the opportunity to develop their business in the region with the right decision makers. Dubai Otology brings together key decision-makers from leading hospitals, clinics, audiology balance centres and government entities. Visit the Dubai Otology website for further information.