Event Details
Date:
15 September 2019
- 18 September 2019
---
Location name: New Orleans, USA
---
---
---
Click to view dynamic map
 Report by: Mona Mozaffari, ST4 ENT registrar and MRC Clinical Training Research Fellow, Oxford Deanery
Having visited New Orleans as a fresh-faced backpacker not long after the devastation of Hurricane Katrina 13 years ago, I was eager to revisit this most handsome, friendly and resilient of cities and delighted to find it recovered and regrown with plenty of fun and entertainment. The city's dynamic and multicultural spirit was captured in the American Academy's annual meeting this year, highlighting a palpable focus on cross-discipline and international collaboration. Efforts to embrace international attendance at the meeting were made by providing a 'member match programme' linking international attendees with US based otolaryngologists. This was an excellent mentorship opportunity and a personal introduction to a meeting that can feel intimidatingly large and impenetrable! There were also specific sessions aimed at international attendees such as the 'International Young Physicians Forum' which provided further networking opportunity as well as unique insights into ENT practice abroad.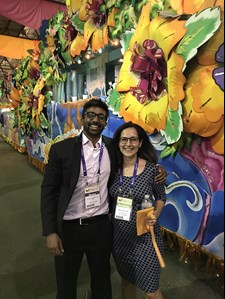 UK ENT SpRs Annakan Navaratnam and Mona Mozaffari enjoying the president's reception at Mardi Gras World New Orleans.
More than 400 educational sessions provided panel discussions by experts on topics ranging from 'advanced techniques in endoscopic orbital surgery' to 'managing tongue tie'. Striking to me, however, was how applicable to everyday practice the majority of sessions were. More common and less exciting presentations to the otolaryngologist such as 'modern management of globus pharyngeus' were not forgotten. It was fabulous to see UK representation on the panels with Martin Burton from Cochrane UK leading the session on systematic reviews and Zaid Awad, consultant ENT surgeon at Imperial College NHS trust, moderating the session on Transoral robotic surgery (TORS) for oropharyngeal cancer. This year, the organisers introduced a new 'ground-breaking science' section where abstracts were accepted sometime after the initial submission deadline (in June rather than January 2019) to allow for late-breaking science. 
A simulation workshop on 'worst case scenarios, managing ENT emergencies' was held as well as a SIM Tank and simulation showcase reception to introduce the latest simulation projects, ideas and kit. For future conferences, do note that the workshop and simulation sessions book up months in advance. Further hands-on opportunities were available on an ad hoc basis throughout the conference via the exhibitors in the sizeable 'Oto Expo' exhibitors' hall, many of whom provided clinician led, cadaveric trials with the latest instruments.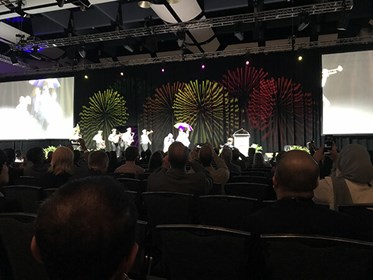 A jazz band and fireworks round up a vibrant presidential address on the opening night.
The American Academy appears to place great emphasis on networking, and socialising opportunities were offered as additional booking options, including walks, tours, runs and yoga. The president's welcome reception on Sunday evening kickstarted the conference and eased attendees into days ahead. Notably, this conference had made an effort to be family-friendly with dedicated sections on the website for attendees bringing children, and nursing rooms available on the conference site. All in all, this was a jam-packed and meticulously organised conference with plenty on offer for all grades of ENT surgeon.
Report by: James G Naples, MD, Division of Otolaryngology-Head and Neck Surgery, Harvard Medical School
The American Academy of Otolaryngology - Head and Neck Surgery Foundation (AAO-HNSF) Annual Meeting & OTO Experience has ended, but the excitement surrounding the meeting continues. My favourite part of the meeting is following up with all the new people I met and getting started on developing the new ideas generated.  As I reflect on the meeting, the single word to describe this experience is opportunity. The AAO-HNSF meeting offers opportunities to:
1) develop collaborations with friends
2) learn from leaders and innovators in our speciality
3) build upon a foundation of science and education.  
The Academy's leadership has designed the meeting in a way that facilitates opportunities for interaction and collaboration with colleagues. There were over 7500 attendees at the meeting, so as one walked through the convention centre, friends are easy to come by. Those friends meet other friends, who then meet you. The result is a new opportunity for friendship and collaboration. Even more exciting is the diverse group of friends who attend with over 1700 international attendees from 94 different countries. I personally met attendees from France, Switzerland, Pakistan, and various places in the United States. This is a culturally rich experience provided by the AAO-HNSF that offers exciting new opportunities for its attendees.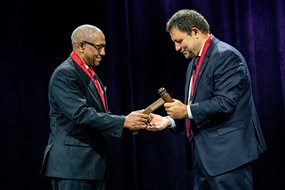 The ceremonial passing of the AAO-HNS/F President's gavel was presented to Duane J. Taylor, MD, by President Merati during the Welcome Ceremony.
A stroll through the convention centre also displays the incredible efforts to provide a comprehensive programme of expert panel presentations and innovative lectures that integrate various perspectives and introduce innovative topics at the forefront of our specialty.  This is highlighted by the various honorary guest lectures. This year, guest lecture topics included: bias in medicine and health care access (Dana M Thompson, MD, MS); quality and safety measures in otolaryngology (Rahul K Shah, MD); autoimmune/autoinflammatory ear disease (Andrea Vambutas, MD); clinical trials in head and neck cancer (Hisham Mehanna, PhD); and emerging digitization techniques to detect head and neck cancer (Baran D Sumer, MD). These presentations offered an opportunity for the attendees to learn about the novel concepts our specialty is exploring to distinguish itself, and more importantly, it is an opportunity for attendees to learn new insights that can be applied to practice. 
Finally, the annual meeting affords the opportunity for attendees to contribute to the AAO-HNSF mission, 'to help our members achieve excellence and provide the best ear, nose, and throat care through professional and public education, research, and health policy advocacy.'  With almost 600 poster presentations and more than 300 scientific oral presentations, the volume of work being done in the field of otolaryngology was on display. Many of the scientific presentations were presented by trainees, which demonstrates the emphasis our specialty places on developing future scientific and independent leaders in otolaryngology. Additionally, the yearly resident 'Academic Bowl' was won by the home team, Tulane University.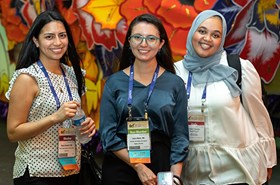 Mardi Gras World provided the perfect backdrop for the President's Reception affording attendees ample time and space to network and connect with colleagues from around the globe.
Ultimately, as I take time to reflect, opportunities to collaborate with new friends, learn and integrate innovative ideas into practice, and contribute to the Academy's mission of education and research are just beginning as we prepare for next year's meeting in Boston, September 13-16, 2020!