Event Details
Date:
1 November 2019
- 3 November 2019
---
Location name: Singapore
---
Location address: Academia @SGH, 20 College Rd, Singapore 169856
---
---
---
Click to view dynamic map
Report by: Frederick Y Hawson, Md, FPSO-HNS, Chair, Philippine Academy of Laryngobrochoesophagology and Phoniatrics, 2019-2020
In 2017, a group of Laryngology specialists from the Asia Pacific region established a learned body in Laryngology aiming to share knowledge amongst colleagues who share common Asian cultural, social, and economic perspectives. Thus, the Asia-Pacific Laryngology Association (APLA) came into existence under the guidance of Founding Chairman Vasant Oswal and Founding President Dr Sachin Gandhi.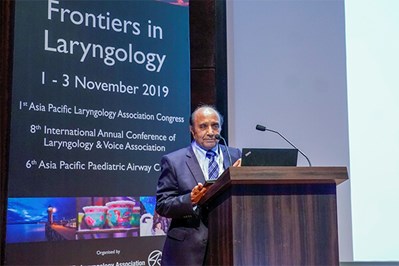 Inaugural address by Vasant Oswal, Founder Chair, Asia Pacific Laryngology Association
The inaugural congress of APLA was held in Singapore during 1-3 November 2019. Around 355 participants (laryngologists, ENT trainees and allied professionals) from 32 countries in Asia congregated in the stylish halls of the Academia in the grounds of Singapore General Hospital to witness this historical event. The theme of the congress was 'Frontiers in Laryngology'. The overall organising chairman of this venture was Dr David Lau of Singapore.
Laryngology remains at a developmental stage in a number of countries in Asia Pacific region. APLA's first conference in Singapore presented a very welcome opportunity to refine this subspecialty. Although a number of Filipino ENT surgeons had sought fellowship training overseas over the years, it is small wonder that a large contingence of 58 delegates from Philippines made their way to Singapore to enrich their knowledge base in Laryngology.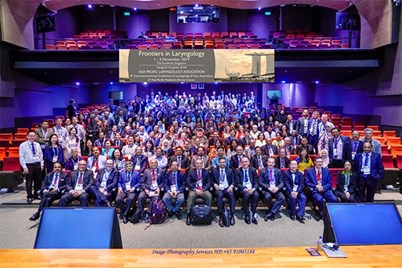 'Frontiers in Laryngology' Inaugural Conference, Asia Pacific Laryngology Association, 1st – 3rd November 2019, Singapore.
The lecture sessions during the congress ran the gamut of basic to highly-specialised topics in Laryngology: paralytic dysphonias, laryngeal dystonias, problems of the anterior commissure vs. the posterior commissure, office-based procedures, lasers and robotics, vocal restoration and dysphagia diagnosis. Acknowledged experts from near and far were in attendance to share their experience with the participants, who witnessed up to date knowledge base and surgical techniques to take home.
There was also plenty of time for oral, video and posters presentations by junior consultants and residents. At the close of the congress, prizes were given to the winners in various categories. The winning presentations included papers on videokymography, narrow band imaging, coblation and intra-operative I-scan. This conference will certainly encourage much interest and research in the field of Laryngology among the younger colleagues.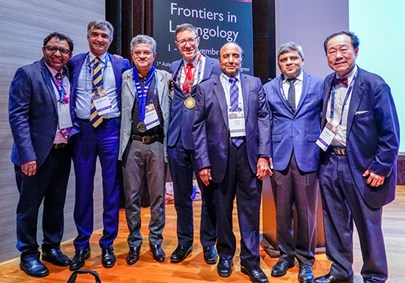 (L-R) Rakesh Shrivastav, Prasad Vyas, Ashok Purohit, David Lau, Vasant Oswal, Sachin Gandhi, Henry Tan.
Eager to keep APLA's ball rolling, the Philippines will host the Second APLA Congress in 2020. The theme of the conference will be 'VAST', an acronym we coined to cover 'Voice, Airway, Swallowing and Therapy'! The second Congress of the Asia-Pacific Laryngology Association will be held from 3-5 December 2020 at the EDSA Shangri-La Hotel, in Manila, alongside the 64th Annual Convention of Philippine Society of Otolaryngology-Head and Neck Surgery.