Event Details
Date:
14 November 2019
- 15 November 2019
---
Location name: Liverpool, UK
---
Location address: ACC Liverpool, Kings Dock, Liverpool L3 4FP, UK
---
Tel: +44 (0) 1506 292 042
---
---
---
---
---
Click to view dynamic map
 Report by: Jennifer Parker-George, Clinical Lead for Diagnostic Audiology, Nottingham University Hospitals.
Nearly five hundred audiological professionals descending on the city famous for The Beatles can only mean one thing… the 16th Annual British Academy of Audiology (BAA) Conference! Spread across two days, there were 55 lectures and workshops, over 100 clinical posters, a massive exhibition and a big party night. This year, there was also a walk-through dementia clinic experience, where you could drop in to talk to experts and explore how to make your clinical room more dementia friendly, and an IDA paediatric workshop.
The conference organisers really went the extra mile this year to put together an amazing clinical programme and they included some novel additions to the conference. Namely a free crèche facility and promoting car share, to ensure the conference was accessible to all. Some other welcome additions were an interactive app used to ask questions after talks and mini presentation sessions in 'pods' in the exhibition hall, where the speaker's audio was delivered to the audience via headphones.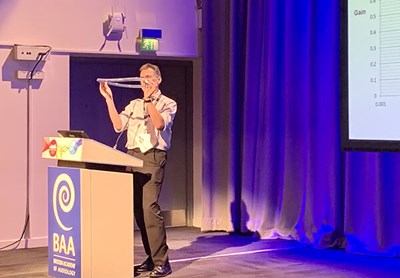 Chris Degg using an interactive glittery ring to demonstrate how the vestibular system works.
The conference opened with past BAA president, Sue Falkingham, delivering an update about the college of audiology discussions. Followed by keynote speakers, John Day talking about audiology services in Wales and Professor Larry Humes, discussing age-related hearing loss and how an audiogram is just one part of the puzzle. On the second day, the conference opened with Professor De Wet Swanepoel talking about eHealth Trends in Audiology, followed by an engaging update about vestibular practice from Dr Sally Rosengren. The conference planners saved one of the best until last, with the final keynote presentation from Justin Osmond on the Friday afternoon. Justin delivered a moving talk about his journey of growing up in a musical family with a hearing impairment and overcoming challenges. Honestly, I don't think there was a dry eye in the house at the end of his presentation! The conference was closed by the new incoming president, Karen Shepherd.
Sandwiched in between two full days of conference was a Cuban themed party night, where delegates had the opportunity to drink mojitos, strike a pose in the photo booth, and sing their hearts out to karaoke...
The conference presentations will shortly be available on the BAA website for members and delegates. Rather than telling you what I watched, I've asked friends and colleagues who also attended what their favourite presentations were, and I'd like to give you some recommendations on what you might enjoy watching yourself when the talks are available online. So, the highlights I'd recommend watching are:
-  Chris Degg provided a great overview of vestibular testing; it was informative and accessible…look out for the glittery ring!
- Iain Jackson delivered an interesting talk on how face recognition could be used in the future to help interpret behavioural hearing responses.
- Padraig Kitterick talked about gaps in clinical knowledge around unilateral hearing loss and provided a compelling insight into the need for more research to guide decision making in this area.
- Kevin Munro delivered a fascinating talk on public perception of disease risk and prevalence.
- And last, but not least, Justin Osmond… Inspiring, motivational, and it will remind you why working within the audiological profession is just amazing. Make sure you have some Kleenex ready!
Finally, a date for your diary, the next BAA conference will take place in Manchester on 26-27 November 2020.
Future meeting details: The 17th Annual BAA conference will be held on 26-27 November 2020 in Manchester.