Event Details
Date:
14 March 2019
- 15 March 2019
---
Location name: Cheadle, UK
---
Location address: Cheadle House
Cheadle Royal Business Park
Cheadle, Cheshire, SK8 3FS
---
---
Click to view dynamic map
Report by: Dr John Chan ST7 and Dr V Osei-Lah Consultant Audiovestibular Physician
The Annual Conference and Scientific meeting of the British Association of Audiovestibular Physicians (BAAP) took place at The Cheadle House in Manchester. Delegates were treated to high-quality talks from a highly-acclaimed international faculty.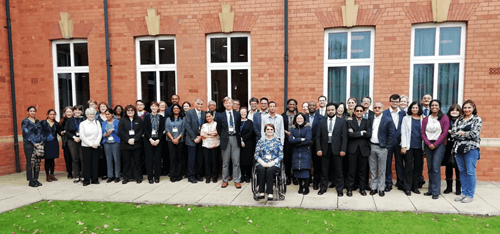 Conference delegates. 
Professor Marios Hadjivassiliou, Professor of Neurology and Head of the Sheffield Ataxia Centre, gave an illuminating talk on gluten sensitive ataxia. He emphasised the importance of extra-intestinal manifestations of coeliac disease and non-coeliac gluten sensitivity (NGCS), its varied presentations in relation to audiovestibular disorders such as Meniere's disease, migraine, imbalance of no obvious cause and cerebral white matter changes. 
Professor Michel Lacour, University of Aix-Marseilles, France, spoke on cortical reorganisation after vestibular injury and compensation. This was an eye-opening talk on the structural, functional and cognitive changes in the brain following vestibular injury and as they should guide customised vestibular rehabilitation.
Sue Archbold, an influential figure in deaf rehabilitation and education spoke on the opportunities and challenges in the technological era faced by parents of the deaf child. She addressed several ways in which we as professionals can support parents. Marco Mandala, Professor of Neurotology, University of Sienna, Italy spoke about the innovative functional head impulse test (FHIT) and how, when refined, it can complement other existing tests used to assess and monitor vestibular function.
The other speakers included Ms Sheena Round, Consultant Speech and Language Therapist, Alderhey Children's Hospital. She showcased the essential work of a network of highly specialised speech and language therapy services for deaf people. Mrs Catherine Killan, a Clinical Scientist in Audiology, Leeds, spoke on the collaborative work between the Yorkshire Auditory Implant Service and the University of Leeds' Audiological Science and Education Group, on outcomes of cochlear implantation. To conclude the first day, the double act of Dr Tamsin Brown, Consultant Paediatrician with special interest in Audiology, Cambridge, and Ms Surina Fordington, fourth year medical student, featured the award winning innovative bone conductor headset for the management of glue ear and the Hear Glue Ear app providing resources for children and carers of children with glue ear.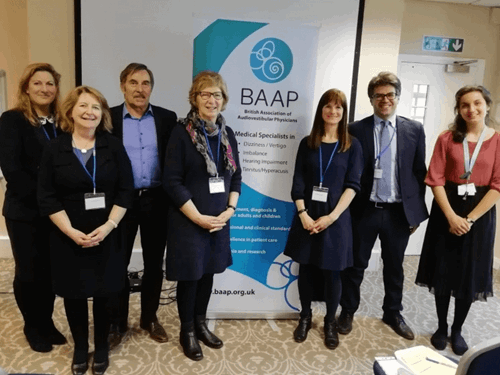 Guest Speakers: L-R Dr Tamsin Brown, Ms Sheena Round, Professor Lacour, Ms Sue Archbold, Mrs Catherine Killan, Professor Mandala, Ms Surina Fordington. 
The second day was devoted to excellent presentations on clinically topics such as head injuries in children, visuo-vestibular interaction in vestibular migraine, music cognition in dementia, vestibular paroxysmia, vestibular processing, screening algorithm for vestibular schwannoma and the hearing loss-autism conundrum.
Prize-giving is integral to BAAP conference tradition and this year's Audit and Dafydd Stephen prizes were both awarded to Dr Rosa Crunkhorn (ST5). The Hallpike prize went to an Audiological Scientist in Cambridge, Dr Eldre Beukes, whose original study on internet-based cognitive behavioural therapy demonstrated a significant reduction in tinnitus distress.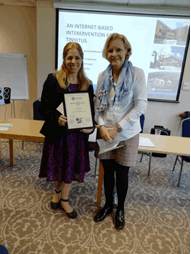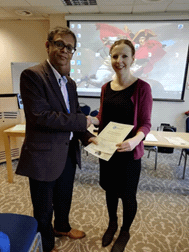 Dr Eldre Beukes receiving the Hallpike Prize.                     Dr Rosa Crunkhorn receiving the Dafydd Stephen Prize.